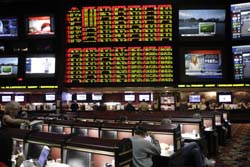 The Las Vegas Hilton Sportsbook offers up the most popular NFL sports betting contest; the SuperContest. For football betting fans, this is as prestigious as it gets and is so popular that other sportsbooks and even sports betting forums have copied or made up a similar version.
Started in the 80's, the contest has gained national notoriety with entrants from all over the US and abroad
"It's really become popular over the last few years, mainly because social media is helping get the word out," VP of Race & Sports at LVH Casino, Jay Kornegay told the NY Post in January.
The entry fee is $1500, and last year 1034 entries were received. Most are groups of people who work together to pick five NFL games against the spread set by the LVH Sportsbook each week.
David Frohardt-Lane took home first prize of the 2013 SuperContest for a whopping $557,850, presented by Kornegay.
This year will be the third year the LVH has hosted the Super Weekend, August 22 and 23rd, and they will be giving away 6 SuperContest entries. Friday night will have top names in sports betting and gambling at a Super Handicapping Seminar, which is open to anyone and everyone that would like to learn about sports betting.
In the even an entrant is from outside of Las Vegas, a proxy can be used to enter the weekly picks, but the entrant must apply in person before the contest starts, September 6th, 2014. There's also a limit of 2 entries per person.
Other Las Vegas football betting contests have a lower entry fee and a variety of prizes.
The William Hill Pro Pick'em Football betting Contest is both a weekly and 17-week contest with the weekly prize of $10,000 and the 17-week prize of $25,000. Contest entry is on $25 and is limited to 25 entries per person.
William Hill also offers a College Football betting contest but costs $100 to enter and is limited to 10 entries per person. There is also a Three 'N Out contest with a $25 entry fee and a limit of 5 entries per person.
Therx.com has a LVH style contest for $150 which is a pool type of payout. Last year 93 entries made a total pool of $13,950 and the winner grabbed $6,277.50. Contest winners are determined by the total number of points gained throughout the NFL Football regular season with a winning selection being credited as one point. A tie will count as half a point.