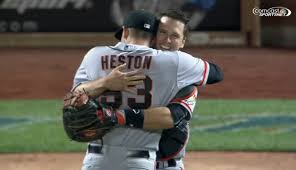 It appears to be that the San Francisco Giants pitching staff do this every year, Chris Heston had a no hitter against the Mets but most amazingly was the fact that he did not allow a walk, struck out 11 batters and hit three batters ruining his chances at a perfect game. He set a record as this is the most amount of hit batters in a no hitter. Chris Heston also helped batting he was 2-4 at the plate with two RBI's.
Chris Heston at the mound threw 110 pitches which included an amazing 72 strikes, he relied on his sinker which he threw on 66 occasions during the night. The 27 year old rookie ended the night with three straight strikeouts and became the first pitcher to end a no hitter by striking out the side since Sandy Koufax in 1965.
During the game he kept saying to himself " Attack the zone, Don't let the nerves get to me, Just throw quality strikes, and that didn't change in the ninth". This is the San Francisco Giants 17th no hitter in franchise history, this last one being very special as they now become only the second team to have achieved no hitters in four seasons in a row, the other team was the 1962-1965 Los Angeles Dodgers. Heston's no hitter is also the first no hitter by a rookie since Clay Buchholz no hitter in 2007 and it's only his 13th start.
Pay per head agents are definitely trying to stay away from the New York Mets when facing good pitchers, Heston has became the seventh pitcher in major league to no hit the New York Mets. The New York Mets have been struggling offensively for weeks as they are currently missing David Wright, Daniel Murphy and Travis d'Arnaud.
The most amazing stat in this amazing game for the rookie is the fact that no other pitcher in the past 100 years had hit two or more batters and issued no walks in a no hitter.