Blackjack is more than just a game of luck.  It requires skill and constant practice to become good at the game.  Despite the fact that a lot of players are quite familiar with the basic strategies of the game, they are usually unaware of the possible outcomes one move can result in.  The blackjack aces is considered to be the most powerful card.  When a player receives an ace, they must use it to their advantage, careful to avoid making a mistake in their next move.
 When dealt with an ace, the player gains the edge in the game given that the card is worth 1 or 11.  However, players dislike it if the ace is dealt face-up, as their edge had been revealed to everyone at the table.  IDSca give helpful tips for players on their online casino. This is the reason why several players have a love-hate relationship with that particular card.
Why Player Hate Blackjack Aces
Here are some of the reasons why a lot of players hate the blackjack aces. Firstly, when the dealer receives it as his face-up card.  Once this occurs, the dealer rarely breaks when the ace is shown.  In the table of dealer probabilities, the dealer with an ace as his upcard will have 16.9% chance of busting.  In the remaining percent, his hand will most likely have a value between 17 through 20, and his chances of getting a non-blackjack hand is only 7.5%.
These statistics are no doubt good news for the dealer but the same cannot be said for the players.  Blackjack author Arnold Snyder stated that in most blackjack games, when the dealer reveals an ace card, the house edge is maximized to 36 percent. Consequently, the players on average, end up garnerning only $64 of their initially wagered $100.
Your Move on the Dealer's Ace 
Now that you have seen the dealer ace, the only way to survive the game is to minimize your losses.  That dealer ace signifies that his chances of busting are low, therefore his next move is typically to make a pat hand.  The following are some strategies to avoid going bankrupt in situations like this:
Do Not Hesitate to Give Up Your Hand if You Have a Hard 16
If the house allows the use of the surrender rule, do not hesitate to give up your hand if you have a hard 16.  Do not try using any other strategies as this allows you to save more money.  Also remember, if the rules say the dealer should hit soft 17, it is advisable for you to surrender a hard 15.
Do not ever stand on a stiff. 
Once you receive a hand that has a high probability of busting, always draw until you get a pat.
Never double down unless your hand is worth 11
Never double down unless your hand is worth 11 in a single or double-deck game, or even in a six or eight deck game that employs h17 rules.
Do not stand if your hand value is a soft 13-18. 
Make a hit against the dealer's ace to reach a hard 17-21 or a soft 19-21.
Never split pairs from your hand unless they are blackjack aces or eights.
Your chances of losing decreases if you play with a single ace or 8 card against the dealer ace.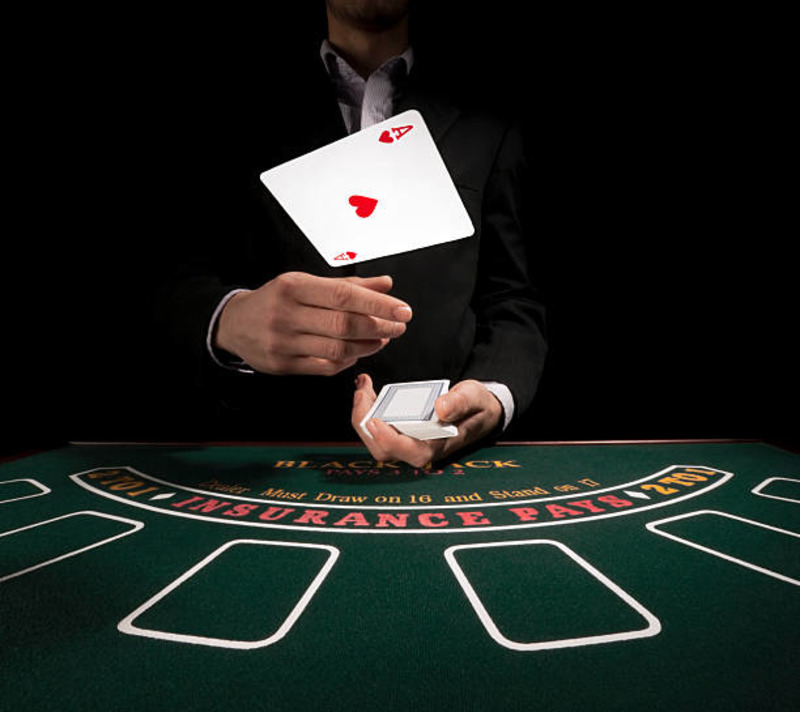 Card counting to keep track of the aces does not have much impact on basic strategy. Nevertheless, there are still certain changes to be made, depending on the number of aces drawn.  Players usually use chips, toes or fingers to count the number of aces that have already been played.
Aces are typically not used to influence the player's true count, hence its usual value is zero.  However, it can be used to determine betting strategies.  If the deck has numerous aces then it's good news, otherwise it becomes a disadvantage to the player.  For each ace there is in a deck, we must add three to the count using traditional card counting techniques.
Below are the usual number of aces in a six-deck game:
Number of aces
20———–5 decks played
18———–4.5 decks played
16———–4 decks played
14———–3.5 decks played
12———–3 decks played
10———–2.5 decks played
8————2 decks played
6————1.5 decks played
4————1 deck played
This is important to know since mathematically, a player can win 49 out of 100 hands, while the dealer can win 51.  With these odds, we need to focus on winning more bets on these 49 hands.  Doubling down can be made on a soft hand that consists of an ace.  Splitting aces and card counting are also good approaches.
Did You Know That
 In the old west, cheating players were naturally dealt either by shooting or hanging them.
The early Greeks used to call aces as "dogs".
300 years ago, England demanded taxes in each deck of cards sold.  They would put a stamp on top of the card of every deck as proof that the tax was paid.  The symbol used was the ace of spades, which is the reason why it is illustrated more elaborately compared to the other aces.
In the early 1980s, a controversy involving blackjack card counting emerged in Atlantic City.  The players during this incident were classified into four categories: novices, basic strategists, card counters and experienced players.
 In 1982, Shuffle Master provided automatic shuffle machines to different casinos for blackjack.
Surrender was initially introduced in the Philippines in 1958 at the Continental Casino in Manila. However, this rule is not approved by certain casinos.
Blackjack remains as the table game of choice by a margin of four to one.  This applies in all age groups.
IDSca updates its bettors with helpful tips to enjoy their betting experience on our online casino, Visit us at www.idsca.com. Call us at (886) 255-5437.