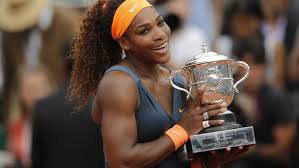 Serena Williams handled her business as Sportsbook Software predicted today at Roland Garros. She does like to make it hard on herself at times much to her fans dismay. Williams staved off Lucie Safarova's bid for an upset 6-3, 6-7(2), 6-2 to win the French Open for her 20th Grand Slam of her illustrious career.
"When I was a little girl, in California, my father and my mother wanted me to play tennis. And now I'm here, with 20 Grand Slam titles," Williams said in French. "This is very special for me. I haven't always played very well here, but I'm really happy to win the 20th here."
Williams is now the owner of three French Open titles to go with 6 US Open and Australian Open, and five from Wimbledon. PPH Bookie Services also favored Serena since the start of the tournament.
"This is by far the most dramatic [major title I've won]," Williams told NBC's Mary Carillo afterward. "I didn't even train yesterday, I've had the flu … it's just been a nightmare."
The only hiccup was in the third set when she double faulted and Safarova took the lead.
"I choked, simple as that," Williams said. "I hit a lot of double-faults, and my first serve just went off. … I got really nervous, it was a big moment to win 20."
At 5-5, Williams broke Safarova and served for the match. But Safarova broke straight back to force a tiebreaker, which she then dominated with powerful groundstrokes.
Safarova gaining momentum led 2-0 in the final set before Williams began her comeback. Williams received an obscenity warning from the chair umpire after holding serve for a 3-2 lead in the third set. She then sealed the game with an ace.
Williams took the last six games and added to her championships on the red clay of Roland Garros in 2002 and 2013.
Serena stretched her Grand Slam winning streak to 21 matches, following titles at the U.S. Open last September and Australian Open in January.
Only two women in the history of Grand Slam tennis have won more than the 33-year-old American Serena Williams: Margaret Smith Court with 24 titles, and Steffi Graf with 22.
Serena Williams, who speaks French fluently, paid tribute to beaten finalist Safarova. "Lucie played very well, she was a magnificent opponent," Williams said. "It was a dream for me to win."
Safarova to Williams "Serena, you were amazing today, you a great fighter. Congratulations,"