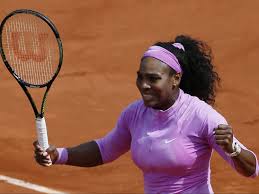 After dropping the first set, Serena Williams recovered to outlast Sloane Stephens and reach the quarter finals at Roland Garros. In a very exciting 2 hour showdown Serena beat Sloane 1-6, 7-5, 6-3. "It's not how you start, I guess. It's how you finish," Williams said. "That's kind of how I'm looking at it."
Serena didn't help her cause with 43 unforced errors, that more than doubled Sloane's 21. Pay Per Head Solutions have Serena a heavy favorite against Sara Errani to the tune of -800 comeback +550. Sportsbook Software also has her as the favorite to win Roland Garros after this close but eventual win against Sloane. Williams is 10-0 in three match sets. "I feel like I'm living on the edge," Williams said. "But, you know, I've got to get off the edge. I don't really like to live like this.
"Believe me, I'm thinking, 'OK, Serena, pull yourself together.'"
Serena has a 29-1 overall record in 2015 and also owns an 18 match Grand Slam winning streak. "There's a reason," said Stephens, defeated in the French Open's fourth round for the fourth consecutive year, "why she's the No. 1 player in the world."
Serena has a chance to become only the 5th women in the Open era to win the year's first two majors since Jennifer Capriati in 2001. Sloane gave a valiant effort after winning the first set in 23 minutes, but succumbed to Serena's inevitable talent throughout the rest of the match.
Sharapova was bounce from the tournament and she had this to say "A tough day … it was a bad day at the office," Sharapova said. "My opponent had a different gear than I did."
Safarova was in full command of the matchup as the more experienced Sharapova tried to mount a comeback. "Maria is an amazing player. I needed to play aggressive and to come forward for the points," Safarova said.
Safarova explained "I felt like I had small openings, and I just wasn't able to … play a good few points. I just wasn't able to keep that level up today,"
Sharapova said. "She was able to do that for a longer period of time. … She took the time away from me, created her angles and I didn't. That was the difference today, in my opinion."
Serena will be going for the crown without Sharapova to worry about. Who knows if there was even something to worry about?