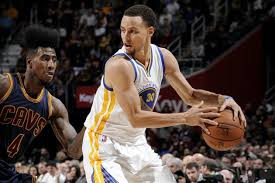 Great news guy's, the matchup we were all drooling for has made its way to the main stage, the best player in the game, versus the best player this season. LeBron James, the Chosen One versus Stephan Curry the Young Gun. This is the Series price line at Online Bookmaking Solutions,
NBA SERIES Basketball Game
CAVALIERS SERIES +190
WARRIORS SERIES -230
It clearly seems that the favorite for this matchup is the Warriors and there well balanced squad. Will LeBron take that so kindly, let's see if he can rally his team and go for the gusto in this year's NBA finals. A popular prop for these finals is one where you must choose the winner of the championship and in how many games. Bookmaking Solutions have those odds as such,
Cleveland vs Golden State – Correct Series Result – Thu 6/4  9:00PM (EST)
| | |
| --- | --- |
| Cleveland win 4 – 0 |   +1800 |
| Cleveland win 4 – 1 |   +1000 |
| Cleveland win 4 – 2 |   +250 |
| Cleveland win 4 – 3 |   +300 |
| Golden State win 4 – 0 |   +600 |
| Golden State win 4 – 1 |   +220 |
| Golden State win 4 – 2 |   +450 |
| Golden State win 4 – 3 |   +200 |
The matchup is really compelling; the Golden State Warriors have been a surprise the whole season especially on how well they've played this year under rookie Head Coach Steve Kerr. It takes time to build the type of chemistry that it looks Golden State found early. A number of players stepped up. Let's start with the obvious, Stephan Curry he has had a tremendous season and it all comes down to one thing, health. Curry has been healthy this season and able to stay in rhythm. Let's face it we all knew he had the talent to do this. Klay Thompson has really become a key cog for this team and the Robin to Curry's Batman. He can guard multiple positions and help relieve defensive pressure off Curry when needed.
Draymond Green became the glue for this team with his defensive tenacity and spreading of the offense with the three point shot. He is the motor of the team and will usually guard the other team's best player. Draymond can guard all 5 positions and in this day in age this is a must on any championship team.
On the Cavs side LeBron the King rules. At the beginning of the year he had a spry Kyrie Irving dribbling up and down the court shooting at will and scoring up to 55 points on some nights. The kid is talented but this is his first rodeo and we all know you need experience to survive in this environment.
A lot of the Cavs luck changed after a few shrewd moves. The Knicks gave LeBron and the Cavs an assists with the exchange of Iman Shumpert and J.R. Smith. They have become to key soldiers for LeBron and his quest. The center, Timofei Mozgov and power forward Tristan Thompson has helped aid in the absence of Kevin Love. And one more surprise name that usually always happens in the playoffs, one Matthew Dellavedova. He has earned LeBron's trust with his high basketball IQ and feistiness on the defensive end.
So, when all these players clash on Thursday it will be a sight to behold. Basketball fans, you are the winner, enjoy the show because who knows when we will get a spectacle like this again.