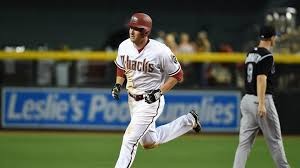 At the beginning of the year everyone in the Seattle Mariners including myself was drinking the Kool-Aid. Again that's why they play the game. They haven't lived up to the hype, even with star offseason acquisition Nelson Cruz who has done his part with 18 dingers but it hasn't equated to wins. Pay Per Head Sportsbook has Seattle at 30/1 with room for improvement.
In comes Mark Trumbo, hopefully he can help with Seattle's anemic slugging percentage. The Mariners announced their trade after 3-1 loss to the New York Yankees. "You look at where we were offensively, and we're not doing exactly what I thought we would do or most people thought we would do, and Trumbo is a guy that brings an awful lot to the table," Seattle general manager Jack Zduriencik said. "He's a big power hitter that will bat somewhere in the middle of our lineup. Thought he would be really good insurance for the ballclub."
In the trade Arizona acquired catcher Wellington Castillo. He fit a need "Not that Salty's not the answer, but we really wanted to address that area. Lamb's going to be coming off the disabled list pretty soon, so it's just going to create more of a logjam for us," Arizona GM Dave Stewart said. "With Yasmany swinging the bat as well as he is, it created a situation where we really needed to open up some space for him."
Sportsbook Software holds the Diamondbacks odds to win at 250/1 a long shot indeed. Mark Trumbo did not play in Arizona's 9-8 win over Atlanta. After hearing the news he was stunned. "I knew it was a possibility so I guess it's not something that catches me completely off guard but it's a bit of a shock," Trumbo said. "You get comfortable somewhere and you develop a bit of a rapport and you have great teammates and you're removed from that situation and you know, it's tough."
Trumbo is a band-aid but not a cure for what ails Seattle. "I think there's probably an exclamation point here doing the deal now and not waiting and trying to get some immediate help now to add to this lineup," Zduriencik said.
Vidal Nuno was also brought on as part of the deal. "To bring a pitcher like him who has started in the past, who's also been in the bullpen, who is versatile kid, tough, has five years of control, we think it's an asset to the organization," Zduriencik said.