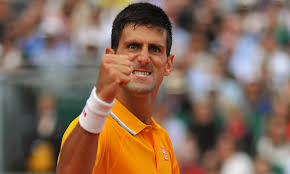 Rafael Nadal, the proverbial Clay King took a whopping at the hands of Novak Djokovic today at Roland Garros. The score was 7-, 6-3, 6-1 this actually not a surprising score as Nadal has not been at his best. Nadal even seemed to have quit in the third set, which is very surprise because of his penchant for fighting to the very end.
The final point actually came on a double fault and Nadal's deadly forehand disappeared as he only registered 3 forehand winners, Djokovic actually had 20 more. The match took 2 hours, 26 minutes but seemed to have been quicker than that.
Bookmaker Solutions has Djokovic at -333 a heavy favorite with 4 players left. Price Per Head Services has Jo-Wilfried Tsonga with the highest odds at +2000 for the dream.
Djokovic was in complete control of the game throughout. "In general, Novak [was] in control most of the time," Nadal acknowledged in his post match news conference. "He was better than me — that's it. Is simple when opponent play better than you; he's in better shape than you. It happens. Just congratulate him.
"I was doubtful about myself. Eleven years I have been playing here. Nine times I won, twice I lost."
Djokovic who had won 5 of the past 6 games against Nadal and that loss came at Roland Garros.
"Playing him here and playing him in any other tournament in the world is completely different," Djokovic said after his fourth-round win against Richard Gasquet. "Conditions are very suitable to his style of the game. He loves playing on [Court Philippe] Chatrier.
"We will see. I never won against him at Roland Garros, but in the other hand I was close a couple of times."
In this matchup you can see how Djokovic slowly but surely started to impose his will on Nadal al culminating in Nadal's disgust in the third and final set. Nadal has not been on top of his game lately, who knows if he could be dealing with some sort of injury. Professional sports players usually don't like to make excuse especially that caliber of Nadal.
"Not happy about my third set," Nadal said, grimacing. "I was there I lost the game, that's it. Good fight in the first, good fight in the second. Third set, I am not happy about how I tried."