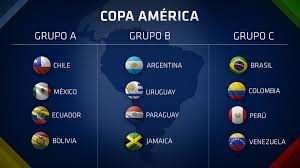 The Copa America Chile 2015 is underway and price per head providers are seeing an increase in interest from the North American public. This increase can be attributed to the 2014 World Cup which saw the United States and its fans following the excitement more so than in previous World Cups.
The Group C preview has some great matchups, and already only a few days in we are feeling some top rivalries stirring up.
On Wednesday, Colombia takes on Brazil. This matchup has been long anticipated after last year's World Cup match in which Colombia lost to Brazil 2-1.
That game saw Brazil's Neymar carried off the field, with fractured vertebrae, finishing his World Cup glory.
Colombia needs a good showing Wednesday after the 1-0 loss to Venezuela in the Sunday opener.
Colombia  +½  -130     + 270   o 2½   +102
Brazil        -½  +110     + 110    u 2½   -132
Draw        + 240
On Thursday, Venezuela goes up against Peru. This is a close matchup, and some feel that both teams will be vying for third place. Venezuela has improved by leaps and bounds since entering their first Copa America, and their win over Colombia Sunday shows just how much.
Could this be the year that Venezuela pulls ahead? Star players, Rayo Vallecano's Miku and Salomon Rondon of Zenit St. Petersburg, have shown that they are willing to do the work that will take their team to the next round. Paolo Guerrero of Peru has been in great form as of late, so Peru won't be giving up easily.
Venezuela  pk   -105    + 180    o 2 -130
Peru           pk   – 115    + 173    u2 +100
Draw          + 215
On Friday the excitement continues with two games in Group A. Mexico goes up against Ecuador and Boliva against host team Chile.
Ecuador   pk  +120  + 205    o 2½ -103
Mexico     pk  -140  + 144      u 2½ -127
Draw        + 230
Mexico has already had a strong showing by drawing with Chile on Monday night, 3-3. Mexico had amped up its game but fears persist for Mexico as left back Adrian Aldrete showed signs of a fractured ankle after the game.
Price per head providers have host team Chile as a strong favorite against Bolivia. Already with 4 points, Chile has a sizeable advantage over Bolivia, who beat Ecuador Monday.
Bolivia + 1½ -115    + 1050    o 2½ -135
Chile    – 1½ -105    – 320        u 2½ +105
Draw   + 425
Live betting is available on all Copa America Chile 2015 games. Learn more about Live Player at
in-play.info and start offering more than 1200 games in live betting every month.