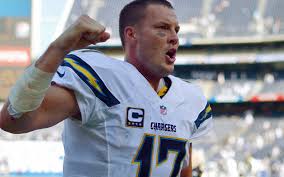 Philip Rivers the veteran quarterback of the San Diego Chargers. He's been in the league for 11 years. Some of which you can say have been underachieving years. This year is particularly interesting to Philip Rivers. Mostly because of his impending free agency. The Chargers have won 4 division titles and 4 playoff games. But the veteran has stated that he is on an expiring contract and does not intend to sign one before his current deal expires.
His Chargers are in the midst of partnering up with the Oakland Raiders, the Chargers are putting together a plan for a stadium in Los Angeles while it attempts to gain funding for a new stadium in San Diego. The Charges though have failed to win 10 games in five consecutive seasons, and now there best player is and the most important player is not planning to play in L.A.
This puts the chargers in a desperate position. One player that can be on the Chargers radar is Oregon quarterback Marcus Mariota. The thing is the Chargers have the 17th pick. Needless to say Mariota isn't slipping to them at 17. There one team that is intriguing in this aspect. That would be the Tennessee Titans.
Philip Rivers has ties to the Titans coaching staff. Rivers is also from a town in Alabama about 100 miles south of Nashville. You can kind of say that it would be like a homecoming of sorts for him. He is the last year of a contract and also can have some prime years left.
The Titans on the other hand have the something that the Chargers would covet if they decide to subtract Philip. The Titans are owners of the second pick in the draft and that would mean one of the two top quarterback prospects in the draft would be available. This would be a perfect scenario for the Chargers and their future plans of the stadium venture.
Online bookmaking services has placed the odds on the Chargers at 50/1. Those are not very good odds and online bookmaking solutions may be taking into account the uncertainty of the team and of the Philip Rivers contract.
The Chargers wouldn't be crazy to trade Philip Rivers. They have to realize they've been a middling team for the past few year and things will get worse before they get better. It's time for Philip Rivers to move on.