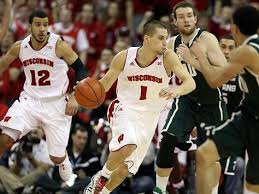 College basketball fans around the country and price per head agents can't wait to see the Wisconsin Badgers square off with the Minnesota Golden Gophers on Thursday, in what they believe could be a very interesting showdown at 'The Barn'.
When it comes to shooting, Wisconsin have a season average of 71.5 points on 47.8%, and 55.8 points are allowed on 41.7%. Sam Dekker recorded an average of 5.4 rebounds and 12.9 points, while Frank Kaminsky made an average of 8.3 rebounds and 18.1 points. The third scorer in the double digits is Nigel Hayes, and 2.3 assist have been recorded by Bronson Koenig . Four players for the Badgers have an average of 7.6 points – at least. From the line, the team shoots at 75.1% and from behind the line they're at 34.6%. With their defense, the Badgers allow a shooting average of 35.7% from behind the line, and in seven games in a row they surrendered 61 points or less.
Minnesota have no choice but to clinch a win after their last 10 matches were split. This season, on 45.8% shooting, the Golden Gophers have an average of 73.1 points, and on 43.5% shooting, 66.9 points are allowed. Maurice Walker recorded an average of 6.3 rebounds and 11.7 points while Andre Hollins has a 4-rebound and 14.7-point average. The third scorer to make it to the double digits is Carlos Morris, while 2.8 assists were recorded by Nate Mason. Five of the Gophers' players averaged 9.1 points – at least – as from the line, they shoot at 66.4%, and from deep they average at 38.3%. With their defense, the Gophers allow 36.6% in shooting from behind the line, and in 5 out of their last 8 meetings they surrendered 63 points or less.
In the last 7 games that they played, Wisconsin are 2-5 ATS after they won SU, and overall, in their last 4 meetings, they're 0-4 ATS. In their last 6 meetings, the Gophers are 1-5 ATS after they won SU and 5-11 ATS in the last 16 matchups that they won overall. In their last 5 games played in Minnesota, the Badgers are 1-3-1 ATS, and in their last 7 games overall, they're 1-5-1 ATS.
For this matchup, many price per head agents believe that the Gophers a will be the ones to come out on top. The Badgers are not doing very well at all ATS as they go to 'The Barn', which is a very difficult place to clinch a win.