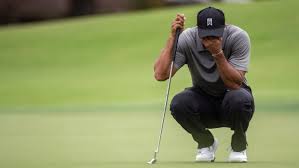 Tiger Woods has announced that he will not be participating in the Arnold Palmer Invitational, a tournament in which he's had a lot of success and dominated at the top of his game. He won the last 2 times he appeared at Bay Hill in 2012-13 and is a crowd favorite at the event.
There are a lot of uncertainties and speculations after He withdrew from the Farmers Insurance Tournament in February with "back problems" and he had his worst score as a pro (82) at the Phoenix Open. Adding to this is a huge loss outside the greens and the fairways that is affecting his image. He is no longer the face of the game, after 15 years as the image of EA Sports Tiger Woods PGA Tour Golf game they have selected Rory McIlroy as the new face of the game.
Tiger Woods is trying everything, he changed his coach, he is working on his game, his short game lately has been terrible, and chipping has been under par for a pro golfer, he needs to reinvent his game, regain his momentum, or get some new live betting services, anything that can get him back on the path of winning. His last Masters victory was on 2005 a full decade ago, many of us who love the game would love to see him pumping his fist on the 18th hole at Augusta wearing that traditional red and black one more time.
There is no certainty that this will occur this year as the Masters Tournament will be held in less than a month on April, this is one of the main reasons that Tiger Woods will not be participating at the Arnold Palmer Invitational which he has won on 8 occasions. There is a lot of speculation as to how tough he will be mentally and physically at the Masters this year as He has played only 47 holes this year.
Tiger Woods has stated that he is not going to come back until He is tournament ready and can play at that level, he is putting in a lot of work on his game, he's making strides and is still not ruling out the Master. Does he have what it takes to come back? Will we ever see that champion again? Well, before having an answer to these questions, He will first need to respond to Augusta's calling April 9-12.