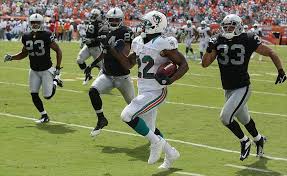 Many of us have seen the Dolphins beat the Patriots in their opening game, and many of us thought that things would get better for them. Unfortunately now they find themselves in a similar situation, and are sitting at the bottom of their division, to the concern of many pay per head fans.
Miami could not bounce back for the second game in a row, as Kansas City demolished them 34-15. Once again, the team's offense was to blame as it was very tough for the Dolphins to get past the defense of Kansas City.
This created plenty of concerns for Bill Lazor, new offensive coordinator who was set to bring a new upbeat style to the Dolphins' offense and make quick points. Unfortunately for Miami, that is currently not happening.
Miami were only able to make an average of 12.5 points per game in their last two meetings. There is a very important reason behind the problems with their offense, and that is the bad form of QB Ryan Tannehill. Throughout three games, the player was able to post career-low numbers when it comes to passer rating (74.1) and completion percentage (56.5 percent).
In the game against Kansas City, the QB was only able to complete 21 out of 43 passes for 205 yards when his team took on a pass defense that happens to have the worst ranking in the entire NFL.
And it's not very likely that on Sunday, Tannehill's job will be easier when the Dolphins meet the Raiders in London. This season, Oakland are the league's second-best team when it comes to allowed opposing passing yards, as so far they recorded 164.5 per game played.
However, the Dolphins' offense have the services of RB Lamar Miller, who on 15 carries was able to gain 108 rushing yards, and at times the player carried Miami's offense all by himself when they faced Kansas City.
Many fans believe that Miller will be key when Miami takes on Oakland, and he could seriously impress on the field, as the Raiders' defense is not exactly the best in the league – or anywhere near that. In fact, Oakland are facing very big problems when it comes to their defensive line. This season, when it comes to opposing rushing yards, the Raiders' opponents have a 158.7-yards average against them, and they're the fourth-worst team in the league.
Miami are currently standing 6-4 in their last ten away meetings with Oakland.
When it comes to the Raiders, it's difficult to imagine seeing them in very good spirits, especially after their 16-9 loss on Sunday to the Patriots.
Late in the fourth quarter, a very controversial holding call did not let Oakland tie the game against New England. Now the Raiders are 0-3, and not a lot of fans are very happy about this.
The biggest problem with the Raiders this season was their offense – just like with the Dolphins. Oakland have an average of only 12.3 points a game in three meetings, which sadly is the worst so far this season in the league. When they took on the Patriots, the Raiders were only able to manage three field goals. This season, the team only scored one TD that wasn't made during junk time, to the disappointment of many fans.
The Raiders' running game – which proved to be quite useless – did not help them at all so far. They are currently the NFL's worst running team with an average of only 64.3 rushing yards. RB Maurice Jones-Drew's absence also didn't help the team, as the player ended up missing his second game in a row due to an injury to the hand.
Many pay per head fans expect MJD to feature against Miami with the return of the player to practice this week, and this definitely comes as good news for the Raiders. The player's return could also help out Derek Carr, rookie QB who is still getting used to life as a pro.
Carr – in three games played – was only able to complete 68 out of 108 passes for a completion rate of 63%. The player also has 32nd place among QB's when it comes to passing yards, with an 196.0-per-game average.
The game against Miami could be particularly difficult for Carr, as he's set to play against a Dolphins defense with a current ranking of third-best in the NFL in sacks. So far they already made nine, and this could be a problem for Carr, as this season the player made quite a few mistakes.