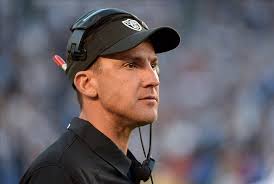 This week, Dennis Allen sat on a seat that was starting to get very warm, but many Live betting fans are pretty sure that now his seat must be in flames after a horrible performance in London by the Oakland Raiders when the Miami Dolphins beat them 38-14.
After Derek Carr's TD early in the game, things turned disastrous for the Raiders – and very quickly, leaving many frustrated fans.
The Raiders were very uninspiring, especially after Carr's knee was injured in the second half, and the player had no choice but to leave the game. Many fans were in shock when they saw that there was no timeout after his injury, and he was not looked at by trainers. All that Carr could do was hop his way out of the field.
The player did not return to the game, leaving Matt McGloin – third-rate QB – to take over. Matt Schaub, backup QB, stayed in the US due to reasons involving family.
Things for the Raiders got just a bit better thanks to McGloin, as for 119 yards the player was able to complete 12 out of 19 passes, two interceptions, and one TD.
Even though many Live betting fans don't believe that Allen is the reason behind all of Oakland's failures, his spell as coach turned out to be a very difficult battle since the moment that the team hired him. Now it seems that the Raiders will have no choice but to start from zero.
Now, Oakland are 0-4 as they move into their bye week. The team lost 10 games in a row going back to last season, and there seems to be a very real possibility of not seeing Allen again as the Raiders' coach.
The Raiders' fans know that their team is going through a very difficult moment, but many of them believe that they'll make good improvements if they make some necessary changes, and maybe with these changes they'll be able to finally win, or at least lose with some dignity.