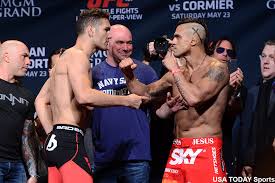 Chris Weidman accused Vitor Belfort of cheating at their final stare down Friday at UFC 187 weigh-in. "I'm going to make him pay for it," Weidman told ESPN.com. "Cheaters never prosper. I'm going to make that little saying stick."
The incident occurred after the weigh-in at the MGM Grand Garden Arena in Las Vegas. Weidman is upset at the testosterone level Belfort has entering the bout. Bookmaker Solutions have this match scheduled to be the undercard match to the Cormier vs. Johnson match.
According to ESPN.com Belfort has submitted multiple urine test and blood test prior to his fight with Weidman. On March 16th. Belfort submitted a urine test that had a produced a testosterone level of 1,200 ng/dL. The considered range to be normal is from 348 to 1,197 ng/dL.
Pay Per head Solutions has the bout at C Weidman -395 comeback on V Belfort +320. The total is set at 2 ½ under -140.
The levels of Belfort's testosterone is high, but still within the standards. This fight will happen and that won't be a deterrent. Though UFC is fine with it Belfort's levels are extremely high for someone who has previously claimed he suffers from low testosterone. He was approved for testosterone replacement therapy in 2013 before three fights in Brazil.
"I found out his testosterone scores throughout his camp," Weidman said. "They went from 500 to 1,200, which is, like, extremely, extremely high. This is a guy who was on testosterone replacement therapy because he needed it for so long, yet his testosterone is four times the amount of mine, and I'm 10 years younger.
"So he's cheating, and I called him out on that."
The facts sort speaks for themselves, and I understand Weidman's thinking. He may have a reason for being upset and if somehow in the future Belfort is found of cheating, Weidman will have been the first to publicly call him out on it.
As seen by the odds Weidman is the heavy favorite to retain his title and will look to wipe the floor with him. Belfort does have his supporters as does every fighter but it seems that this is an exercise in futility. It doesn't seem that it could go all the way to the cards and Belfort will always look for the fight. After the long layoff Weidman will look to put his name back out there as a man not to be messed with.