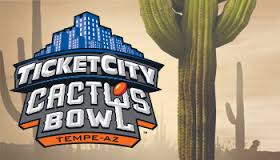 Washington are getting ready to face Oklahoma State on the 2nd of January, and pay per head bookies are very eager to see what will happen on the field when the Pac 12's Huskies square off with the Big 12's Cowboys in the Cactus Bowl.
The Huskies were able to finish their season with an 8-5 record even though the season started 5-1 for them. This season, Washington ended up being beaten by every ranked team that they faced, which says a lot, considering that they were defeated five times to ranked opposition in the PAC 12. For Washington, Cyler Miles' season was a decent one, and with many players who in 2015 are returning to the team, the future is looking good for the Huskies.
Oklahoma State's season started at 5-1 after the team almost beat Florida State – who are at the top spot – in the season's first game. But they suffered injuries and had a very tough second half of their schedule for the season, and due to this, the team ended up losing their next five meetings by a 201-68 margin.
Being 5-6, and having a road game against Oklahoma remaining, it seemed as if the Cowboys wouldn't be able to feature in a bowl game, but fans all over the country who follow the team were very happy to see that they made it, and now are expecting a very interesting meeting when they face the Huskies.
Then QB Mason Rudolph had what could very well be the best game he ever played when he threw for 273 yards, scoring 2 TD's on his way to a win of 38-35 win over Oklahoma in overtime. The freshman QB is well known to be very talented, and he's set to feature in this showdown
This season, pay per head bookies saw that the Cowboys' defense was a real disaster, and they were having trouble with their offense at times. The Huskies have the element of defense as their specialty, so Oklahoma State could have plenty of problems when trying to run the ball. The Cowboys' offense was set back by injuries, and the very famous Hau'oli Kikaha, the team's top LB, will at least get a couple of sacks. The Cowboys were lucky when they beat the Sooners, and the Huskies should have no major problems pulling off a win.
Brought to you by IDSca.com the Original Pay Per Head:
Florida State will have it tough when they face Oregon's offense
Alabama could upset Ohio State in the Sugar Bowl
Sun Bowl 2014 Game Analysis: Duke Blue Devils vs. Arizona State Sun Devils
The game between USC and Nebraska could be a close one