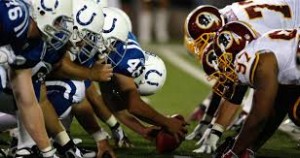 This season, the Colts were one of the top teams in the league to make a wager on, as they went 8-3 ATS, and pay per head services saw that the Redskins, who are at 4-7 ATS, were not a very good choice at all.
On Sunday, the team that has the first place in the AFC South is set to take on the NFC East team that is currently sitting in the last place when the Colts, who are 8-3, take on the 4-7 Redskins at home.
The betting line opened up with the Colts as the favorites by eight points, but by Wednesday it was bet to the double digits, and the total was 51.
The Redskins ended up losing a very difficult game on Sunday when they took on San Francisco at Levi's Stadium, at 17-13, but they were able to cover as the dogs with nine points away from home. They were actually the ones who were leading that meeting late, but with three minutes remaining, they gave up the winning score.
Washington could only come up with 213 total offensive yards, but in their ground game Alfred Morris gave them 125 yards – his season's best performance. And the 49ers were only held to 66 yards rushing by the Resdkins. Washington's defense has a ranking of 10th place overall in the NFL.
This season, they are 1-5 SU, but on the road they're 3 -3 ATS, and could have covered when they took on the Cardinals and Vikings on the road.
Starting against Indianapolis will be Colt McCoy, and the very well-known Robert Griffin III has been benched.
Indianapolis were able to bounce back after suffering a very bad home loss to the Patriots, with a 23-3 win last week over the Jaguars, covering as the favorites by 13 points. The Colts were able to outrush Jacksonville 175-80, outgain the team 389-194, and win possession time with a margin of 34/26.
Not very long ago Indianapolis were able to win and cover five consecutive games, until their game against the Steelers, where they met Ben Roethlisberger a.k.a. Big Ben. Then New England were able to put up 42 on the team.
The Colts are probably going to be the ones to win this meeting, but pay per head services believe that the betting line might see Indianapolis somewhat overhyped at home. In the meantime, this season the Redskins played some very nice football away from home, and many experts believe that they should be the team to go for in this clash.