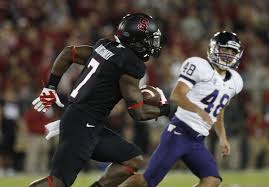 Washington, who are currently undefeated, are set to open Pac-12 action on Saturday when the team host Stanford, and many local bookies can't wait to see how the Huskies will perform this time around.
This year, Washington are straight up 4-0, but only 1-3 ATS, and an eight-point total decided the Huskies' first two victories.
Many sportsbooks opened Stanford's betting line with the Cardinal being the favorites by 5.5 points, but on Thursday the line was at 7.5 points.
In two of their three meetings, the Cardinals were able to cover, and the team had a bye week to get ready for their game against Washington. When it comes to defense, Stanford doesn't seem to be able to make much of a performance, as so far this season they gave 13 points in total, and all of the points came in when they lost 13-10 to USC on September 6 at home.
Local bookies saw that after their loss, the Cardinal were able bounce back with a win of 35-0 over Army before their bye week, and they covered as the favorites by 29.5 points.
In Stanford's last five games at Washington, the team were 4-1 ATS, as well as 12-3-1 against the line in their last 16 games on the road against opponents in the conference.
Washington are 7-3 ATS in the team's last 10 games played at home against opponents in the Pac-12, and Chris Petersen, the Huskies' new head coach, is finally able to be involved in a game within the conference. The past Boise State Broncos coach was very successful in the Mountain West and WAC, as he went in eight seasons 57-6 (90%), and the coach is well aware of the importance of the these league meetings.
When it comes to their offense, the Huskies kept on scoring since they had a very narrow 17-16 win over Hawaii in the team's season opener and were not able to cover as the 17-point favorites on the road. In their last three meetings, Washington had a 49.3-points average per game, and in the Huskies' last two games they were able to limit Georgia State and Illinois to 33 combined points.
More College Football Week 7 Information:
Kelly, Drake, and Devall are out for Alabama
Oregon wants revenge against Arizona
Oklahoma could easily take out Texas