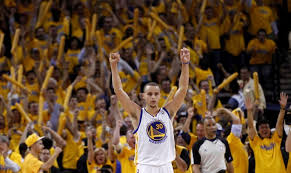 After looking very human for a few days the Golden State Warrior has woken up from their slumber. Both Stephen Curry and Klay Thompson came to play and turned in great performance to take a 3-2 lead in the Western Conference semifinal series. Pay Per Head Solutions and Price Per Head Services have the Warriors at 2/3 to win the championship.
"It's like wine," Warriors forward Draymond Green said about learning how to stop Memphis. "It gets better with time."
They found their rhythm on defense and started knocking down the long ball. Curry scored18 points and added a career playoff high 6 steals to go with seven boards and 5 assist. Thompson scored 21 points and Harrison Barnes also played well and had 14 points. Now the Warriors have a close out game against the Grizzlies at Memphis Friday night.
"I think I said the first couple games, 'Our defense was good enough, but it wasn't championship defense,'" Warriors coach Steve Kerr said. "I was wrong. This is what it's going to take."
The Grizzly team really misses their top defender Tony Allen greatly. He had checked Curry for the first few games and was able to fluster him and in turn that spread across to the other Golden State players. Gasol had 18 points and 12 boards. Zach Randolph had 13 points and 10 rebounds for a Grizzly team that looks lost and on the brink of elimination.
"Everybody's saying we couldn't score because Tony Allen's on the floor. We put up 78 without him," Grizzlies coach Dave Joerger said. Since being down 2-1 the Warriors have come back with force against the Grizzlies showing there swarming defense and a fast pace offense that's has been there identity since the season started.
"They're moving the ball. They're getting a lot more penetration. Everybody," said Grizzlies guard Mike Conley, who scored 13 points wearing a mask over his still-healing face. "When you do that, it's always tough to stop."
The Grizzlies had hoped they would have the firepower to combat the Warriors but the duo of Jeff Green and Vince Carter has struggled to find a good coring rhythm.
"You feel the energy of the crowd," Curry said. "It was a cool moment." Kerr also added "It was a miracle we had the lead after the first quarter." They also never gave the lead back to the Grizzlies for the rest of the game.