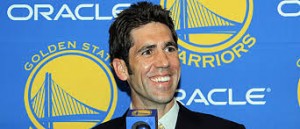 Bob Myers, general manager of the Golden State Warriors was voted executive of the year on Friday. Myers won the award after a assembling a top tier squad that steam rolled to a 67 win franchise record and earned the league's top playoff seed.
Pay Per Head Solutions and Bookmakers Solutions have placed the Golden State Warrior odds at +100 after Cleveland lost a significant piece in Kevin Love.
Bob Myers received 13 first place votes and had a total of 82 points. Cleveland 's David Griffin came in second with 8 first place votes for a total 69 points. And Atlanta Hawks head coach Mike Budenholzer finished third with 4 first place votes and a total of 36 points. Budenholzer has overseen basketball operations for the Hawks since general manager Danny Ferry had the incident with the racial comments.
Bob Myers was actually a sports agent with Wasserman Media Group when Joe Lacob hired him in 2011 to be Golden State's assistant general manager. After one year he was promoted to replace GM Larry Riley. After his ascension he has distinguished himself as one of the brightest minds in the NBA.
Some would say the best work that Myers did was the trade he never made, at the same time surrounding Stephen Curry with a talented roster that has made three consecutive playoff appearances. This team is also primed to compete for a championship for many years if kept as constructed.
Myers made the trade for Andrew Bogut in a trade deadline deal for Monta Ellis in March. He then drafted Draymond Green and Harrison Barnes. He also pulled off a series of complicated trades to clear enough cap space to sign Andre Iguodala.
Bob Myers also inked Stephen Curry to a $44 million, four year contract extension. The deal had its doubters but it has now turned out to be one of the best bargains in the NBA. The reasons behind the doubt were due to his many injuries on his troublesome ankle. At this moment Curry is the frontrunner for NBA's MVP.
Myers hired Steve Kerr this year a rookie coach who has the poise to get the job done and as I mentioned somewhat before did not trade Klay Thompson for Kevin Love. Those moves have put the Warriors in position to win the chip. How will the playoffs shake down?