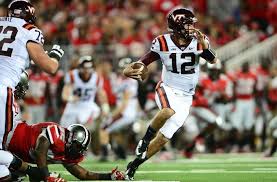 In the ACC, Virginia Tech are winning their rivalry with Miami, as the Hokies were the ones who came out on top in eight out of 11 contests, which include a win last year of 42-24, going 8-3 ATS along the way. Local bookies know that this will be a meeting in which both teams simply can't afford to lose again in the conference. The Hurricanes will be hosted by the Hokies when they square off at Lane Stadium on Thursday night.
Virginia tech's betting line opened up with the Hokies being the favorites by two points at home.
Two weeks ago, Miami beat Cincinnati 55-34, and they were able to cover as the favorites by 16 points, then the team was off last week. The Hurricanes' offense recorded 621 offensive yards. 335 of these were made on the ground, as Duke Johnson, who on 10 carries racked up 162, and Joseph Yearby, with 113 yards on eight attempts, made the century mark when it came to rushing, and many experts can clearly see their talent.
The team's production on the ground that went along with their win, were in contrast with their loss last week to the Georgia Tech Yellow Jackets, where Miami ended up being held to 107 rushing yards. This season, the Hurricanes were already defeated in two games in the ACC. In order for Miami to make it to the championship game in their conference, the team will most likely have to beat all of them from now on, and on Thursday night the action begins.
Virginia Tech were able to win two consecutive meetings but were defeated last week 21-16 at Pittsburgh. With only five minutes left, the Hokies made it within 5 points, but they weren't able to bounce back at the end. Local bookies saw that QB Michael Brewer was able to throw for 265 yards without any interceptions after at least one pick was tossed in each one of the first six meetings.
The last three teams that the Hokies took on were outgained by them, and these include Georgia Tech and the North Carolina Tar Heels, but the Panthers ultimately outgained the Hokies by forty yards. Virginia Tech have nothing to brag about when it comes to their offense, but they are 20th place in total defense, and against the run they are 30th. The Hokies already own two losses in the ACC, so Virginia Tech almost have no choice but to win the game if they want keep up the race in the division.