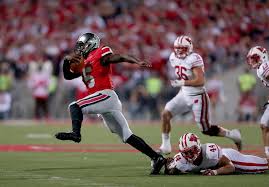 Coach Urban Meyer said on Wednesday that he's looking forward to seeing QB Braxton Miller play with the Buckeyes again in 2015. Many fans and live betting services that follow the team seriously hope that he doesn't go anywhere, as they know just how important the player is to the squad.
There were many rumors regarding a possible transfer for the player, and in the last few days those rumors increased. On Tuesday, there was a report by The Palm Beach Post saying that the player was looking into making a move to Florida State and join the ranks of the Seminoles.
The newspaper reported that the offensive player was also linked with making a move to Ole Miss, Duke, and Oregon.
Miller wasn't able to play for the whole season after his throwing shoulder suffered a torn labrum, and J.T. Barrett, the player's replacement, ended at fifth place in the voting for the Heisman Trophy even though he suffered a broken ankle on the 29th of November in a game against the Michigan Wolverines.
Cardale Jones, third-string QB, was the one to lead Ohio State to a win of 59-0 over Wisconsin in the championship game of the Big Ten. On Thursday night, he will be the one to start in the semifinal game of the College Football Playoffs against the Alabama Crimson Tide at the Sugar Bowl, and fans throughout the country can't wait to see how the player will perform in this key meeting.
On Wednesday, in the last news conference that he had before the Sugar Bowl, the coach said that he spoke with Miller and expects to see him return to the Buckeyes.
Gene Smith, Ohio State athletic director, spoke with Cleveland.com, saying that he's looking forward to seeing the player stay with the Buckeyes, and he said: "I don't see a need for him to transfer. I have never heard that from him."
Earlier this month, Miller was able to win his degree as an undergraduate of Ohio State, and next season the player could move on as a transfer to a different school.
Miller's fans – especially those who follow the Buckeyes – hope to see the player stay with the team so he can held lead them very far next season as well, but they know that this is ultimately up to him. Live betting services hope that whatever move the QB makes is for the best, and will pay close attention to his future in the sport.