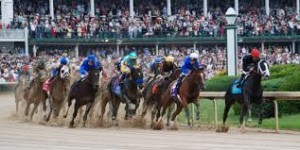 Is it a good thing, or a bad thing where your Kentucky Derby favorites ended up in the post positions at the sportsbook software solutions?
As Price per head services have mentioned in the past, along the rail is the worst starting position for a horse, although there have been a few exceptions to the rule of course. Luckily this year's favorite, at 5 to 2, American Pharoah has landed the 18th position.
The other top favorite (and also trained by seasoned Bob Baffert), Dortmund, got a great spot at number 8.
So what are the rest of the positions, and has it changed any of the odds at the sportsbook software solutions?
The 20 horses and post position as well as the sportsbook solutions current odds are:
1. Ocho, Ocho 50 to 1
2 Carpe Diem 8 to 1
3. Materiality 12 to1
4. Tencendur 30 to 1
5. Danzig Moon 30 to 1
6. Mubtaahij 20 to 1
7. El Kabeir 30 to 1
8. Dortmund 3 to 1
9. Bolo 30 to 1
10. Firing Line 12 to 1
11. Stanford 30 to 1
12. International Star 20 to 1
13. Itsaknockout 30 to 1
14. Keen Ice 50 to 1
15. Frosted 15 to 1
16. War Story 50 to 1
17. Mr. Z 50 to 1
18. American Pharoah 5 to 2
19.Upstart 15 to 1
20. Far Right 30 to 1
And what are the odds that a horse named Far Right would end up, on the far right? Brilliant!
Mubtaahij will be the hardest horse to wrap say at the sportsbook software solutions, which may be important as some are saying this Irish bred horse is capable of a Derby upset.
Let's not forget that Mubtaahij won the Dubai World Cup at the end of March, with an incredible 8 length win. If this horse keeps up this explosive pace, our two Kentucky Derby favorites may be chomping at the bit as Mubtaahij flashes by.
This is the first race of the triple crown, so all contenders will be giving it their all and we wish them all good luck.