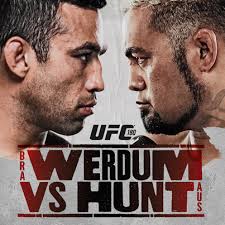 Two of the world's most threatening and powerful fighters are ready to square off in Mexico at UFC 180, which will be the country's very first UFC fight. This meeting will see Fabricio Werdum face Mark Hunt in a main event consisting of five rounds, in a clash that pay per head services believe could prove to be the Fight of the Year, and fans all over the world expect a huge showdown.
This fight was initially set to take place between Cain Velasquez – current champion in the UFC – and Werdum, who's the top contender. But Velasquez suffered an injury to his knee with three and a half weeks remaining until the fight, and he had no choice but to pull out of the meeting.
Hunt, who's a veteran in MMA and a favorite with many fans, didn't give a second thought before taking the fight. The UFC could not have chosen a better fighter to take his place, and this card is even more exciting after the fight has been set to be for the interim heavyweight championship.
Werdum, the first placed contender, is set to enter this meeting having a record of 18 wins in the MMA as well as a draw and five defeats. The 18 times that the fighter was able to win, he knocked out an opponent five times, was able to make nine submissions, and four were won by means of decision. The fighter holds very important wins over Antonio Silva, Travis Browne, Roy Nelson, Alistair Overeem, and he beat Fedor Emelianenko by means of submission – a win that many experts believe is one of his best ones to date.
In contrast, Hunt has a resume in the MMA of 10 victories, one draw, and was beaten eight times. The fighter's 10 victories include just three by way of decision, and seven made by means of knockout. He was able to record very nice wins against Stefan Struve, Cheick Kongo, Ben Rothwell, and Wanderlei Silva, and recently took out Nelson by means of knockout.
Two fighters with completely different styles are set to go head-to-head at UFC 180 – one is a specialist in jiu-jitsu submission, and the other a kickboxer who's an expert when it comes to knocking out his opponent. Both men will look to force their different styles and willpower in their efforts to win this battle, and pay per head services would really like to see who will be the one to win this clash.
This fight should be truly massive, and in the UFC, an interim heavyweight champion will emerge in a fight that could be one to remember for a very long time.