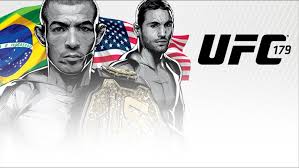 Jose Aldo used to be a mad hitter, but now the fighter is an expert in the ways of Muay Thai, and he's very effective in what he does. However, many Live betting fans could see that the way in which the featherweight champion changed also saw him turn into more of a fighter that relies on points instead of wildly going for a knockout. Aldo won by means of decision four out of six UFC title defenses.
Aldo does a great job when it comes to the counter striking an opponent, as he would rather let the other fighter move first before making his counter attack. But he still moves forward, particularly with his leg kicking.
Yet, Aldo tends to open up too much while making combinations. Chad Mendes could take advantage of this, as he has a pretty powerful punch in both hands. Aldo has to be very careful with this, or he could be knocked out by Mendes and his iron punches.
A large part of Aldo's striking success comes in his spectacular takedown defense, as he was able to fight off 91.7% percent of all attempts to hurt him. He could take on very skilled wrestlers, something that showed just how impressive his defensive skills are.
Aldo's defense isn't only amazing, but when he's in trouble he can send his opponents straight to the ground. He put his offensive wrestling in display in his first appearance in the UFC, depending on takedowns when Mark Hominick gave him a proper fight. Whenever he wasn't comfortable standing up, he could wrestle Chan Sung Jung. Aldo made a combination of 10 takedowns when he took on Jung and Hominich.
The biggest concern for Aldo is his cardio, which is suspicious. The fighter seems to weaken deep into the bouts, starting in the third round – and in the last minutes of that round. In the fifth round, Hominick was able to dominate Aldo on the ground, and on February 1, Lamas did it again.
Nevertheless, Aldo won 17 fights in a row, something that should give him the necessary confidence to win the clash.
Chad "Money" Mendes, who is an top wrestler in Division I, was very determined in his grappling. The fighter has an average of five takedowns in each bout. The takedown threat also gives room for Mendes to strike, something that gives him an edge against his opponents.
In the first fight that he had against Aldo, his wrestling didn't always work as planned. Mendes was able to make a couple of slams, but the champion couldn't be kept down for a long time. Mendes primarily used his striking power in more recent fights, and with very good reason. He got his second opportunity for a title in a destructive path, as he was the victor in his last five clashes, which include four in a row made by means of knockout, leaving many Live betting fans very impressed.
The fighter only had to make 25 strikes so he could knock out Cody McKenzie, Yaotzin Meza, as well as Darren Elkins in the first rounds of those fights. Then he was able to outstrike Clay Guida 32-17 to finish in the third round. In 44 clashes, Mendes' win by stoppage was the first loss that Guida suffered by TKO or knockout.
Duane Ludwig also plays a very important role, as training under the new coach was able to give Mendes more mobility with his striking, something that could prove to be crucial in this fight.