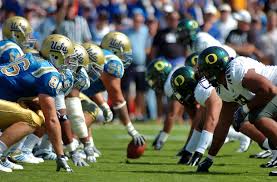 The UCLA Bruins will go back to the Rose Bowl after being absent for four weeks, as the team tries to keep their perfect record before their meeting next week with the Oregon Ducks. However, local bookies believe that UCLA should not take Utah lightly at all, as they're trying to get their act together after they ended up blowing a lead of 21 points to Washington State last week at home.
The game's most important matchup could very well be the Bruins' special teams against Kaelin Clay, Utes returner. Clay just might be their top player this season after he was able to return three punts as well as a kickoff for TD's. UCLA's opponents could only return three punts for no yards against them throughout the season.
For Utah, WR Dres Anderson is a player to keep an eye on. The player, who's the son of Flipper Anderson, former Bruins WR, only needs to record 26 receiving yards to achieve 2,000 made so far in his career in the sport. This season, the Utes' pass-catcher who poses the biggest threat was already able to record three grabs for a TD.
When it comes to UCLA, QB Brett Hundley would be a player to pay plenty of attention to. This could be a very important chance for him to make another impressive performance, as his candidacy for the Heisman Trophy got stuck in September, which proved to be relatively quiet for the team. Even though he missed with an injury most of the win by Texas, the player was able to pass for 1,041 yards and seven TD's, and only one interception was made.
If UCLA is able to win the game, they would have the team's longest winning streak made since 2005, which would be quite an accomplishment. Local bookies saw that years ago, Travis Wilson, Utah QB, made the first start of his career.
Here are some figures and facts on both teams:
In each one of the past two seasons, the Utes defeated the Bruins by just seven points. Kyle Whittingham, Utah coach, wants to clinch the 80th win of his career. This season, Myles Jack, LB/RB for UCLA, was only able to rush on 10 carries for 25 yards and one TD. The player was a freshman last year, and had a 7.0 yards-per-carry average.
More College Football Week 6 Information:
Florida State should have no problems in beating Wake Forest
Ole Miss could have a very tough time against Alabama on Saturday
Oregon wants revenge against Arizona
LSU Tigers vs. Auburn Tigers Week 6 Complete Game Analysis