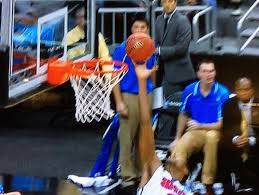 The number 11 UCLA Bruins one of the most baffling picks of the tournament advanced to the third round on a controversial call by one of the officials. The NCAA tournament round of 64 is one of the craziest and most exciting stages of the tournament, and yes, when the biggest upsets take place.
The SMU and UCLA game was not the exception, mark this date in your calendars March 19 2015, Louisville Kentucky, ground zero. This game specifically the ending will be talked about for years to come. With less than 15 seconds to go on the game, UCLA's Bryce Alford between two defensive players jumped up behind the 3 point line and made a desperate shot. SMU's Yanick Moreira located under the basket childishly jumped up and touched the ball on its way down, the whistle blew, the call goaltending, shock, disbelief, happiness and confusion on the court, 13 seconds left and SMU was now losing the game 60-59.
SMU missed the next two shots lost the game but everybody is talking about the goaltending call. To lose a game on such a call should be killing Moreira and the rest of the Mustangs. The question everybody makes is: Did the officials make the correct call?
To me they made the correct call on the floor but it's being published and talked about incorrectly, for live betting services and online booking solutions the correct term is basket interference. By definition basket interference (also called offensive goaltending) is when a player touches the basket, the rim, or the ball when it is on the rim or directly above it. Like goaltending, basket interference when committed by the defending team results in an award of points. Most people confuse basket interference with goal tending as both are very similar, but in goaltending the ball is clearly going in and in basket interference the ball just needs to be above the rim.
The Mustangs lost the game because they could not hold a 59-52 lead; they had no response to an 8 point run in the final minutes by UCLA, turned the ball over with 26 seconds left which led to the goaltending call and missed the final two shots to win the game with a buzzer beater, there are more factors in this loss than the goaltending call. The UCLA Bruins will now be facing UAB which by the way beat Iowa State in another upset, winner will reach the coveted sweet 16.