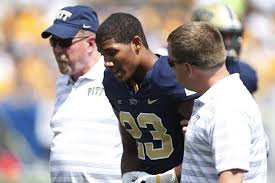 The Panthers' football betting fans feared that their team received a blow when Tyler Boyd suffered a dislocated finger in Pittsburgh's 62-0 thrashing of Delaware, but there are high hopes that the wide receiver will be fine for their next game.
News of the player's injury was confirmed by the school at halftime, which was free of any stress thanks to the team's lead of 42-0, but then many fans were obviously very concerned. Boyd went to the sidelines with his hand wrapped up and sporting a t-shirt as he was rooting for his team.
Sources reported that the injury suffered by the player seems to be a minor one, and he should be able play for Pittsburgh in their season opener on Friday against Boston College, in a game that is eagerly anticipated by many fans all over the country.
Sounds like Boyd injury is minor. Should be good to go for BC Friday night.
— Sam Werner (@SWernerPG) August 30, 2014
Boyd's fans saw some amazing action by the player before he injured his finger, as he was able to make two catches for 18 yards and score one touchdown. Many fans were very amazed with Boyd in 2013, and they could clearly see that he was one of the NCAA's most explosive freshmen, with an impressive 1,174 receiving yards total.
However, the most notable players in the Panthers' win are in the backfield and offense. There were five RB's who helped make a 409 rushing-yards team total. In only one half of playing time, James Conner scored four TD's, as well as 14 carries for 153 yards.
The Panthers' football betting fans are counting the days until next Friday, as the team will take on Boston College, and on Saturday, the team's opener is set to get underway at UMass.
Many fans of the Panthers are confident that Boyd will be good to go on Friday, but will still keep a close eye on his progress, and hope that he'll be 100% when their team faces Boston College.