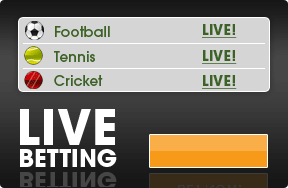 Live betting on the NFL will be the highlight of this football season and IDSca.com will be the only price per head sportsbook offering this unique product.
Imagine being able to wager throughout the game, and not just on the spread, money line and total. In-play betting is true live betting, giving customers the choice of up to 100 different props.
European sportsbooks have been offering live betting for almost a decade, and up until now, North American pay per head shops only offered re-adjusted lines during commercial breaks.
Being pioneers in the price per head industry, IDSca.com saw the opportunity to get a jump on the competition and created their own live betting software after 3 years of research and development.
August was a great month to introduce this great new live betting product to both the current clients and our new signups and now that September is here,  we can't wait to show off our in-play for the NFL.
IDSca offers live betting on soccer and tennis while waiting for the NFL regular season to start. Once the NBA and NHL begin, live betting will also be available.
To learn more about IDSca.com's new live betting product, go to in-play.info and see for yourself just how amazing it is.
All accounts using live betting will also notice that in addition to live betting props, the interface also displays a real time scoreboard showing crucial game information such as game cast, score, cards, corners, etc, which are supplied by top class sports information services that provide the official real-time, play-by-play stats and results.
Wagers are easy to make as singles or as parlays, and selections can be made first before the type of wager is chosen. The betslip makes it easy for the picks to be seen while looking for other choices.
Grading is immediate for all live betting wagers too. Once play is made that is involved in a prop, the system automatically grades any pending bets. That means the money isn't at risk for the whole game, and can be used to place more wagers, increasing the wagering volume.
True live betting, only at IDSca.com.