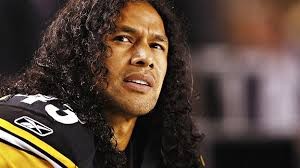 Troy Polamalu, safety for the Pittsburgh Steelers has retired after a 12 year playing career. The Steelers made the announcement Friday in the morning. Troy Polamalu told the newspapers that his decision to retire because of his desire to spend more time with his family, his wife Theodora and young sons Paisios and Ephram.
"Since the end of the season I've had a chance to enjoy my family on a level that I never had before. It was awesome," Polamalu told the newspaper. Polamalu stated. "Thank God football has provided me the ability to be able to sit back and see what the options are. But I'll definitely be the best father I can be." With a chuckle he added "Maybe it was a sign for me to retire when I chase my kids around and couldn't catch them. It was either a sign for me to retire or a sign for them to begin training."
It was a quick turnaround as Polamalu informed the Steelers on Wednesday. "Troy is a shining example of a football man in the way he loved the game, the way he respected the game and the way he played the game," Steelers coach Mike Tomlin said in a team-issued statement. "It's a shining example of the window into which he is. He is a legendary Steeler and a legendary man. I congratulate him and wish him nothing but the best moving forward."
The Steelers were hoping that Polamalu would've come to decision soon as the star safety, who was turning 34 decide between playing and retiring. Steelers where hoping for the latter as they did not want to release one of the most beloved Steeler figures of the last decade.
Polamalu saw the writing on the wall, as his skills where in rapid decline. After 8 pro bowl selections and 2 Super Bowls he decides it was time. Polamalu had two years left on his contract with a base salary of $6 million this year. Pay per head agents have the Steelers at 30/1 and live betting services will be available as soon as NFL kicks.
Steelers chairman Dan Rooney also had this to say "He's been a tremendous leader, really a leader by example, not only as a great football player but as a great person. He has influenced many people both on and off the field, which was really an important part. We've been fortunate to have great players throughout the years, but he of course would be one of the top players. He did everything with dignity and responsibility, and it was special to have Troy be a Steeler his entire career."