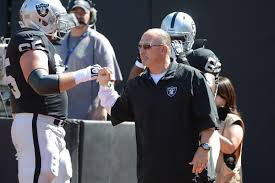 Many NFL fans now see a glimmer of hope for the Raiders, as on Tuesday, Tony Sparano was named by Oakland as the team's interim head coach, and this happened to take place less than 24 hours after Dennis Allen was fired due to the poor performances by the Raiders so far this season. Now pay per head agents wonder if things will finally turn around for the team.
Sparano, 52-years-old, used to be the Raiders' assistant head coach/offensive line, and many fans seriously hope that he'll be able to help the team bounce back from the horrible season that they're enduring.
The decision made by the Raiders to fire the coach and employ Sparano – which many fans hope proves to be a wise one – was set to be addressed at a news conference on Tuesday at 5pm ET by Sparano and Reggie McKenzie, the team's general manager.
"Tony Sparano has a strong presence in this organization," said McKenzie. "His experience and leadership qualities will serve the team well in helping reach the goal of everyone here, which is to win football games."
Allen, 42-years-old, was the Raiders' coach who had a very disturbing record of 8-28. The coach ended up being fired after Oakland's embarrassing 38 -14 loss to the Dolphins on Sunday when both teams went head-to-head in London. After the game, the Raiders had a record that fell to 0-4, leaving many upset and frustrated fans.
From 2008 to 2011, Sparano was at times the head coach of the Dolphins for four seasons, with a record of 29-32, and in his first year he was able to help the team get the AFC East Division title, something that gives many fans some hope that they'll see the Raiders' embarrassments on the field this season come to a definite end.
Pay per head agents saw that in both seasons before Allen was named head coach for the Raiders, the team was 8-8. Allen's firing is a very big blemish for Reggie McKenzie and his reputation, as Allen was the first man that he hired in January 2012 after being chosen to take the place of Al Davis.