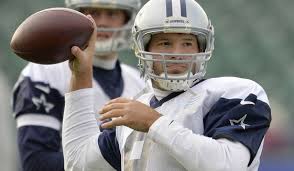 Cowboys QB Tony Romo held practice on Thursday for the first time since the back fractures that he suffered in the game against the Redskins on October 27, and sports software services believe that he might be well enough to face the Jaguars in London.
Even though coach Jason Garrett did not want to be committed to seeing the player hit the field on Sunday against the Jaguars, Jerry Jones – Cowboys general manager and owner – said that Romo will feature in this game.
Romo suffered two traverse process fractures against the Redskins, so his status is obviously still not clear.
"I'm anticipating him playing, have no reason to think that he won't, and this will be a nice little practice session for him out there today," said Jones. "But my expectations are for him to play."
When he was asked if he would be able to play on Sunday, he said: "We'll see. I think we'll take it day by day and see what happens as we move closer. It's improving each day. We did some things today that were a positive. If it keeps going in that direction, we'll have a good chance."
In the part of practice on Wednesday that was open to the media, the player was throwing passes, and also went through the short rehearsal sessions during the last three days at the team's hotel, but in practice he was considered limited.
"He'll hopefully be able to do what we want him to do on a Thursday practice," said Garrett, "and as the week goes on he'll feel good with the work he's gotten and he'll be able to play in the game. But we'll just take it day-by-day."
The coach said that the last decision made on whether the QB will be able to feature in the game will come down to the Cowboys' medical staff with the player's input, but sports software services are very optimistic that Romo will take on Jacksonville.
"Any time he can play, we want him to play," Jones said. "We're a better team, to be trite, with him playing. And so as far as the meaningful games, I'm talking about — we didn't play him in the preseason obviously but felt we could have had we needed him to win the game — but these games, we don't play many of them. You know that. And every one of them counts so much.
"Invariably any time you do lose one of these games in the regular season, our experience with us, especially these last several years, is we needed every win we could get. There's no such thing as holding him out and forgoing the potential chance that we win."