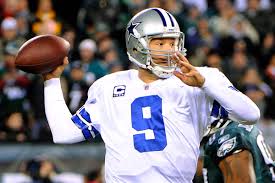 The Cowboys' Tony Romo is now getting ready to face the Titans, but local bookies saw that the very famous quarterback admitted that his game was a bit rusty when his team lost to the 49ers in their season's opening game.
The player said that he will make very good improvements before Sunday, when Dallas takes on Tennessee.
"You guys can call it what you want as far as the reps, you've asked the questions many times, through rust or whatever you can come up with, physically the positive thing was I was throwing the ball really well and it's been good for a while so I'm excited about that, but the game comes down to mistakes," the player said. "It comes down to one or two throws. What I found is just in some of those that the mental process that I was going through pre-snap in a lot of ways, my checklist and stuff, it's situation and understanding leading up to that week and over the course of the game. What can happen is you lose certain subtle things that need to continually be there beforehand. I think that comes with playing.
"I think I needed that, and maybe what I found is I needed to get that part of it sharper and that comes with playing … I'm disappointed it obviously took a game to get to that point, but it'll be different going forward."
The quarterback was limited in the offseason as well as in training camp, and in the preseason he was only able to play in two games. In the Cowboys' game against the 49ers, Romo ended up finishing the game with 281 yards on 23 out of 37 passing. In the game's first half, the player was also intercepted on three occasions.
However, there might be some good news, as the player said that he did not feel that he had any problems with his operated back after taking a fair amount of hits during the game.
"I think that situationally when you're in it, you need to be boom, boom, boom, boom, boom," he said.
"And you go through it and after the snap you know (snaps fingers) these things come into your brain. Without them, you're just playing. And if you're just playing over the course of 30 throws, you're going to have some you don't necessarily feel comfortable with. Each one needs to be the most important throw of the game and you need to have that mental thought process among some other things that give you the advantages."
Local bookies know that the player bouncing back is nothing new, but they'd like to see if he'll be able to do it against the Chargers. Romo is now coming off his career's 11th game where he ended up being intercepted three or more times, but the player's answer to this was eight interceptions and 15 passes for a touchdown in the 10 meetings after that one.
"It's always difficult right after the game," he said. "If you care about the game at all, it's never a fun week. It's never good. All quarterbacks go through it. You never want to have games where you throw multiple interceptions. But what makes the best quarterbacks who they are is how they respond to it. So you got to come back and you got to play your best football for the next, for the rest of the season, multiple weeks, blah, blah, blah."