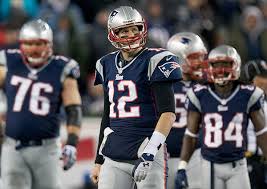 IDSca.com learned that Patriots QB Tom Brady suffered an ankle injury, was added to the team's injury report, and is now questionable for the team's game in Buffalo on Sunday.
The player was not included on the Patriots' injury report on Wednesday or on Thursday. In practice, Brady was able to participate in the stretching part, so when the injury took place is not known.
Brady was struggling with an injury to the calf earlier during the season – something that on September 5 kept the player from practicing. The QB was off for the day so he could put his calf to rest before he started against the Dolphins in the Patriots' opening game of the season.
The player being added to the team's injury report might mean that the injury was aggravated in practice on Friday.
If Brady isn't able to start for New England, Jimmy Garoppolo, who happens to the only other QB on the Patriots' roster, will be the one to step up for him, and local bookies would really like to see how he performs if he's given the role. The rookie stepped in during the fourth quarter when New England were demolished by the Chiefs.
In other injury news, New England could miss the services of Bryan Stork, rookie center. On Thursday, the player had a concussion and was not able to participate in practice on Friday, and the player is now on the questionable list. In the event that Stork isn't able to play in the game, New England will have to move around an offensive line that seemed to have finally become steady.
CB Brandon Browner was not able to hold practice due to an ankle injury for the second day in a row, and it isn't known if his first game for New England in the regular season will be put at risk.
LB's Dont'a Hightower (knee) and Jamie Collins (thigh) are also on the questionable list, as well as DL Dominique Easley (shoulder/knee). Matthew Slater, core special teamer and WR, is also doubtful for the game due to an injured shoulder.
All week, safety Devin McCourty (rib) and DE Chandler Jones (shoulder) were limited in practice, but there's a good chance that these players will feature for the game on Sunday
Cameron Fleming, offensive lineman, and Nate Ebner, core special teamer, will also not feature in the game due to finger injuries.