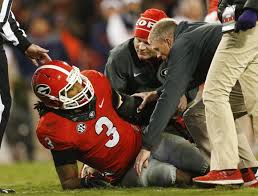 On Sunday, several sources reported that Georgia RB Todd Gurley – a player who internet bookmakers can see is a real rising star in the sport – will not be able to feature for the rest of the 2014 season due to a knee injury that he suffered when his team took on Auburn, which was his first game back in action after being suspended.
Georgia confirmed on Sunday afternoon that the ACL in Gurley's left knee was torn, in an injury sustained late during the fourth quarter of the Bulldogs' game on Saturday. The player was not scheduled yet to receive surgery, and many fans are wondering when he will get this problem fixed.
Gurley's fans were very concerned when they saw that the player suffered the injury on a run of six yards when there were over five minutes left in the game. Footage showed that the player was trying to grab his knee after he took little or no contact at all, but was able to walk to the locker by himself.
In only six games played, Gurley was able to assemble the work of a whole NCAA season, as he recorded 911 rushing yards as well as nine TD's, to not mention what he did as a kick returner for the Bulldogs. On Saturday, the player's return to action – after being banned from for four meetings due to taking over $3,000 for autographed collectables , which is an act that is direct violation of the rules that the NCAA has- was the statement that so many Bulldogs fans were looking forward to seeing. On 29 carries, the player was able to rush for 138 yards with a TD scored, and he almost had a return TD added, but a penalty took place and it ended up being called back.
This season, not only was Gurley the best player for the Bulldogs, but he's also considered to be one of the next NFL Draft's top prospects. Many fans were very excited when they found out about this, and would really like to see where he could end up playing if he joins the big boys of the sport. Internet bookmakers everywhere believe that he could prove to be a great asset for whatever team he plays for, considering his abilities on the field.