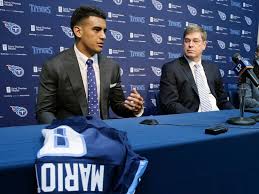 Steve Underwood, Titans interim president and CEO, won't shy away from wanting to have offset language in Marcus Mariota's contract, as the player continues to be this year's only first-round pick left to sign a deal, but price per head providers can see that this is proving to be a bit of a problem.
With offset language, NFL teams get guaranteed money back in the case of the player being let go and signing somewhere else.
In the case of Mariota getting a contract with the Titans with no offset language included, the player could "double dip" and get paid by another team in the league as well as Tennessee if he doesn't play out his contract.
"We've always had offset language in our player contracts. It's nothing new," said Underwood. "I think it is important where a high first-round draft pick is concerned, because it's the precedent. Everything that we do is precedential for the next round of contracts.
"So keeping the offset in place is something we want to be able to do going forward. And the minute you back away from the contract principle then you no longer are able to assert it going forward."
Underwood said that if Tennessee lets the player in without offset language, the team would lose a long-lasting value.
"Whatever you do echoes into eternity with player contracts," he said. "We just can't afford to take a step back, at least this early in the process. We're still a couple of weeks away from training camp."
When he spoke in June about the player's situation regarding a contract, Titans GM Ruston Webster said: "I don't concern myself too much with it if a guy misses a few days."
The DC also said that even though missing time at the beginning of training camp isn't the best way to go, it's also not catastrophic.
The team is set to report to training camp on the 30th of July, and their first practice will be on the 31st. Price per head providers wonder if the player will make it by then, and know how much many fans want to see him join the ranks of the Titans.
"Getting a first-round draft pick, a quarterback, signed and in camp on time, it's a big deal," he added. "It's something we need to be focused on. But using that or any other excuse to subvert the negotiating process, that's faulty logic.
"You still need to stick to your guns about what it is you're trying to achieve in the contract negotiation. You may need to use some fallback position. But getting your first-round draft pick to camp on time is important. Sticking to your guns about what you need to get in a contract is also important."
Underwood isn't trying to negotiate, but he does expect to see a done deal in a date closer to the start of training camp, and so do many fans. He said that he supposes that the Titans and Mariota's agents, Ryan and Bruce Tollner, are keeping in touch, even though the offset language is the only problem.
"My understanding is, that is all that is left," said Underwood. "I'm sure there are tiny odds and ends, but that is all that I'm aware of."