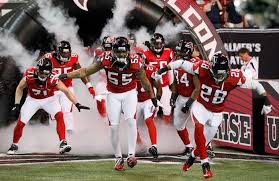 The Atlanta Falcons's football betting fans were amazed to see that the team had a great opening week win when they took out the New Orleans Saints, but then they suffered a two-TD away defeat to the Cincinnati Bengals. Only four days passed after their most recent loss, but Atlanta will be one of Week 3's favorite teams.
The Falcons will begin their schedule on Week 3 with "Thursday Night Football", when they face the Buccaneers in a divisional game. Even though the Falcons were 1-1 when they entered the game, Tampa Bay continue to look for their season's first win. In 2013, both teams ended up tied for the final place with records of 4-12.
Throughout two games, QB Matt Ryan is leading the league's top passing offense and the second total offense when it comes to yards. The player was able to throw for 679 yards, and 204 of these went to Julio Jones, team-leading WR.
In spite of all the yards summed up by the Falcons, they have an 11th placed ranking in total points. Atlanta only scored 10 points when they were defeated by Cincinnati in Week 2, and Ryan's three interceptions did not help their cause at all.
Even though Atlanta clearly have some problems, they started better so far this season than Tampa Bay. The Bucs are one of seven teams in the NFL that did not win.
The Bucs had the opportunity to come out on top both in both of their meetings, but time was running out in both of the games, and unfortunately the ball was down for Tampa by a single score. Even though the team only lost by eight combined points, Tampa Bay did not use the chances they had to defeat two backup QB's. In Week 1, the team let Derek Anderson make a passer rating of 108.7 as Cam Newton's replacement in the game, after losing to Austin Davis and the Rams.
Backup Josh McCown did not do much at all to help with the team's passing game, which disappointed many football betting fans. With their 168 and a half passing yards per game, Tampa Bay have a ranking of second-to-last in the league with the player leading them at QB. During the preseason, McCown was named the team's starter, taking the place of Mike Glennon, who last year had nine interceptions as a rookie, but threw for 19 TD's.
On Sunday, Tampa Bay didn't have the services of one of their top men, as Doug Martin had no choice but to miss the game due to an injury to his knee. But Bobby Rainey – who on 22 carries recorded 144 rushing yards – was able to fill the spot very nicely. It is still not known if Martin will hit the field on Thursday, but on Tuesday the player did hold practice.
Many football betting fans remember that ever since 2008, Atlanta did much better than Tampa Bay, as they won eight out of 12 games. The Bucs were in most of those losses, as they were only defeated twice by more than one score.
In Week 3, there were only three teams in the NFL who got worse odds than the Bucs. Tampa Bay's point spread given by most casinos in Las Vegas is 6.5 away points. 44.5 points is the under/over.