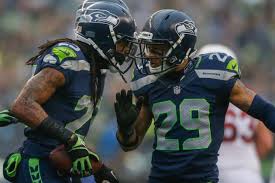 Even though they both suffered injuries, it's very likely that the Seahawks' Earl Thomas and Richard Sherman will both feature in the Super Bowl. Online bookmakers know very well how important these players are to the team, and they seriously hope that they make it to the game.
The Pro Bowl DB's were injured in the championship game of the NFC, something that concerned many fans.
On Monday, CB Sherman said that a sprain on his elbow was shown after he had an MRI. On Sunday, the CB was injured in the game's second half, but kept on playing as Seattle clinched an overtime win of 28-22 over the Packers.
And also on Sunday, Thomas suffered a dislocated shoulder while playing in the game's first half. On Monday, he also had an MRI exam done.
"Both those guys were in dire straits if they could play [after the injuries Sunday] and they didn't flinch," said Pete Carroll, Seahawks coach. "Not for a second. Their courage and heart couldn't have been more evident. Their willingness to throw their body out there was so impressive. Earl had a brace on his shoulder, and Richard couldn't straighten his arm out."
The coach didn't give any updates on Thomas, but a source reported that "Earl will play in the Super Bowl, don't even waste any time on the story."
On Sunday, both Thomas and Sherman said Sunday that they will feature against New England in the Super Bowl.
Sherman suffered the injury in the fourth quarter's opening play, in a collision with teammate Kam Chancellor as he tried to take down James Starks, RB for the Packers. The CB immediately started to favor his left elbow, but he didn't leave the field even though team trainers were yelling at him.
Thomas' shoulder was put in a harness after he left the first half of the game. Once the harness was put in place, he got back on the field and kept on playing for the remainder of the meeting.
"I know who I am, I'm a warrior," said Thomas. "If I can play, I don't care if I can't function really well. I know if I can help the team I'm going to be in there."
The Seahawks' fans and online bookmakers will closely monitor the progress made by these players, and many of them are confident that they'll be just fine when the Super Bowl gets underway.