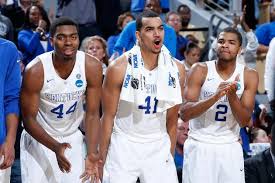 Before the tournament started the question, Kentucky or the field? Has been on everyone's mouth. With comments made like the one made by legendary coach Larry Brown stating that the Kentucky team could be put in the NBA and they would make the playoffs.
We are close to reaching the final Four and three strong teams remain in the tournament that could trouble Kentucky. Arizona and Wisconsin have a strong team that could upset the Cats and on the other side of the bracket we have Duke which has been the strongest or best looking team through the first rounds. Let's look into every team and see what we have in store for the Sweet 16.
UCLA: Facing Gonzaga a team which they have already lost to, the winner will face the winner of Utah vs Duke. The Bruins should just be happy of reaching this stage so they got nothing to lose and a revenge to claim. Gonzaga has the easiest of all matchups against UCLA.
Xavier: Playing Arizona a big favorite, Very likely to be going home, has never reached the final four. Arizona is a heavy favorite to advance and reach the finals.
West Virginia: Going against Kentucky, players have their bags ready to go home. The pro is that they have a strong defense and if they pressure Kentucky and create a lot of turnovers along with an aligned of the planets they could pull an upset. Kentucky will meet against the tough defense of West Virginia which they have yet to experience such a pressure from any defense they've played yet.
Louisville: Playing NC State who they have lost this year to but can has a team that can beat them. NC State is favorite to advance even though lower seeded. Very strong team it beat Duke and Villanova.
Oklahoma: Highest seeded team left from the East region, good staring five just need a little more help of the bench to advance. Michigan State should be able beat Oklahoma to advance, the real challenge will be on the Final Four.
Wichita State: Playing Notre Dame, Wichita has one of the toughest defenses, Fred VanVleet, Ron Baker and Tekele Cotton will make things tough for Notre Dame. Notre Dame will have to keep that NCAA record of 58.3% from the field in order to advance.
Utah: Going against Duke, Utah is a good balance team in offense defense and has a legit chance against Duke. Duke Has a tough game, but has the talent and scoring to beat Utah and even take Kentucky if the energy and momentum is high.
North Carolina: Facing Wisconsin, NC has lost all 3 games this year against top ranked teams. Will have a tough time advancing to next round. Wisconsin, with the most efficient offense in college all that needs to hold in order to advance will be the defense.
No Bracket, online booking solutions has the answer … Kentucky or the Field?