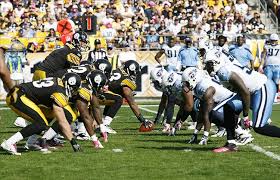 The Titans are looking to stop a losing streak of three games and be able to win their second game in nine meetings when the team takes on the Steelers on Monday night at home, in game that online bookmakers know will prove to be crucial. Tennessee are only 1-6-1 ATS, and they'll take on a Steelers side that are set to play in their second consecutive game on the road after they suffered a loss last week to the Jets at 20-13 as the favorites by 4.5 points.
The betting line opened with the Steelers as the favorites by four points, and the total opened up at 46.5.
Pittsburgh have a much better team than Tennessee does, and last week the Steelers should have received an eye-opening shock when they were taken out by the Jets, and they simply can't lose another game like that one. The passing game that the Steelers have, which is led by QB Ben Roethlisberger, is considered by many experts to be the best one that the league currently has, as the player was able to throw for 1,205 yards, besides scoring 13 TD's combined in their last three meetings.
Pittsburgh also have the services of some young WR's joining the team as well as Antonio Brown – the team's top target – with six TD's scored by Martavis Bryant in the last four meetings. In this game, it's not very likely that Tennessee will be able to put up with Big Ben and his WR's.
Since the Titans don't really have anything to play for, this could be a huge game for them, especially in just one of two appearances made this season in prime-time. Tennessee's offense is still working on the details with rookies RB Bishop Sankey and QB Zach Mettenberger – both of them players who were able to show signs of why last year they were draft picks who were held in high regard.
Ken Whisenhunt, head coach for the Titans, is quite intelligent, and the player was not able to completely figure things out with the team, but there are some very talented players who only need to get more opportunities to impress on the field. Perhaps taking on a difficult team like the Steelers will be able to let them keep the game close – at least.
There's too much at stake for Pittsburgh right now if they don't play at their top level and win the game. The Steelers did a very good job at home recently, but they also have to figure out how clinch a win while playing away from home, particularly when it comes to teams that they should not have much trouble beating. One of them is Tennessee, and they did not perform well lately as the dogs at home, as they went 0-6 SU as well as 1-5 ATS in the last six meetings that they played in these circumstances.
This season, the Titans' single win at home was made against Jacksonville, and that took place a month back. Online bookmakers saw that in that game, Tennessee had plenty of luck, as they won 16-14, but they weren't able to cover as the favorites by 4.5 points. This upcoming showdown will be much tougher to cover as the dogs at home when they take on the very tough Steelers side, so it would be wise to go for Pittsburgh.
More NFL Week 11 information: 
New York Giants vs San Francisco 49ers NFL Week 11 Betting Line
NFL Week 11 Sunday Night Football Odds: Patriots vs. Colts
The season is over for Brandon Mebane
The Lions have more injury woes, and the fans are worried