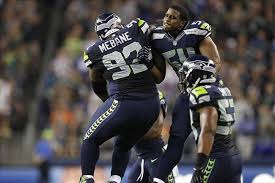 Brandon Mebane, nose tackle for the Seahawks, who according to coach Pete Carroll was having the best season of his career in the NFL, will be out for the remainder of the season due to a torn hamstring, something that many internet bookmakers believe could be a big blow to the team.
It was reported that his injury – suffered in the game against the Giants on Sunday – would put his season to an end.
The team did not answer to requests for comments on the player's injury, and many fans would like to know just how serious it is.
Sources reported that the player is making a decision on whether to get surgery or not. If he doesn't get surgery, recovery time would be eight weeks – at least.
Many fans believe that this season, Mebane was the top player on the Seahawks' defense with his action at the scrimmage line usually facing two blockers, and being very important in the team's fourth placed ranking in rushing defense, with just 79.8 yards allowed in each game played.
On Monday, Carroll said that that the player's injury was a severe one. He did say that he wouldn't be able to play for "a while" but not for how long he would be out of action for.
Seattle will most likely put Mebane on the IR list and use the services of another DT. Sources have confirmed that on Tuesday the Seahawks were working out DT Michael Brooks. The player was in training camp with the team, but on August 26 he was waived.
Several players, including CB Richard Sherman, said that the season was going great for Mebane. Seattle have the services of two other veteran DT's in Tony McDaniel and Kevin Williams, as well as Jordan Hill – second-year player – to take Mebane's position.
"We'll have to see how things go," said the coach on Monday. "Kevin will play a lot more in that spot. Kevin, Tony and Jordan all are good football players and we'll see how it fits, but there's nobody like Mebane. He's a very unique player and I think is having his best season since we've been here. That's a big hit to take, but we'll expect our guys to go in and play good football."
Mebane's absence from the Seahawks could be problematic, but many internet bookmakers believe that the team will work around his loss, and hope that makes a proper and swift recovery.