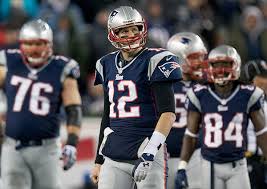 The Patriots can look at adversity in the eye and beat it, and also use it to their favor. The champions of the AFC are currently dealing with plenty of controversy, but it doesn't seem to trouble them too much, and this might be one of the reasons why many live betting fans have the team as the favorites to emerge as victors on Sunday when they face the mighty Seahawks in the Super Bowl.
Putting "Deflate-Gate" on the side, the Patriots have the services of Bill Belichick, who's one of the top coaches in the history of the league, and who was continually able to help his men not pay attention to any outside distractions and only concentrate on winning games.
New England seemed to be just an average team after a start of 2-2, and then they had a winning streak of seven games, which impressed many fans and was a high for the season, going 6-1 ATS, something that helped the team become the favorites to win the Super Bowl.
The Patriots also have QB Tom Brady, future Hall of Famer, and in 14 years this would be the 6th time that the player will feature in the big game. Brady, who won the Super Bowl MVP award two times, did everything he could to see his team emerge triumphant
Three years ago, when the Patriots featured in their last Super Bowl, TE Rob Gronkowski suffered a sprain in his ankle and was very limited on the field, as he was mostly only able to feature as a decoy, finishing the game with only two catches made for 26 yards. This season, New England assembled what could very well be the NFL's best pass catchers, which include Gronkowski – who's in full health – as well as WR's Danny Amendola, Julian Edelman, and Brandon LaFell.
Even though the Patriots were having trouble scoring TD's on occasions, live betting fans are sure that the team's defense is what could make the difference when they take on the Seahawks. Throughout the last six games that they played overall, New England allowed over 17 points just once, when they beat the Ravens 35-31 in the AFC playoffs' divisional round. Seattle are challenged when it comes to their offense, and in the Super Bowl, keeping in check RB Marshawn Lynch could prove to be vital for New England to outscore Seattle and cover.