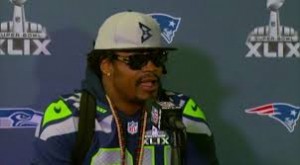 Roger Goodell, commissioner for the NFL, said that once the Super Bowl is over, the league will see whether Seahawks RB Marshawn Lynch fulfilled this week's duty to speak to reporters on Tuesday, and whether he should get a fine after wearing a hat that wasn't licensed by the NFL. Live betting services can see that the player continues to create controversy, and wonder what the fans have to say about this.
"I do not believe any decision has been made," said Goodell on Friday during his yearly press conference before the big game.
"Our staff probably will look at that following the Super Bowl and make a determination, as they have in the past."
On Tuesday, the RB showed up at media day, and he answered questions made by reporters with different variations of "I'm just here so I won't get fined." The RB said that phrase on 29 occasions, and then on his smartphone, a timer went off once five minutes passed, telling him that the mandated time for him to answer questions was over, so he pulled out of the session. The player also had a Beast Mode hat on his head. It is not very clear at all if the hat that he wore, which is made by New Era – a sponsor of the NFL – breached the rules that govern apparel that is licensed by the NFL.
In the session on Wednesday, Lynch just said, "You know why I'm here," when he was answering questions. Once five minutes passed, the player again left. Live betting services saw that on Thursday, the RB gave a quick statement, but again no questions were answered.
"I've been very clear. When you're in the NFL, you have an obligation," said Goodell. "It's an obligation to the fans. It is part of your job, and there are things we all have to do in our job that we may not necessarily want to do."
Goodell believes that the RB knows that must be cooperative.
"I think Marshawn understands the importance of the Super Bowl, the importance of his appearance, and the importance of him as an individual in this game," said Goodell. "Fans are curious. Fans want to know and the media would like to make that story clear to our fans.
"I understand it may not be the top of his list, but everyone else is cooperating and everyone else is doing their part because it is our obligation. As I said, there are a lot of things we don't like to do in our jobs, but it comes with the territory and it comes with the privilege of playing in the Super Bowl."