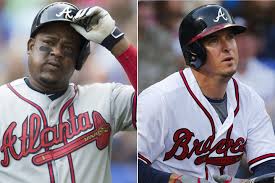 On Friday the Mets traded for Juan Uribe and Kelly Johnson, per pay per head sportsbook sources. They swapped them for a pair of minor league pitchers. Uribe 36, plays third base and is hitting .272 with 8 homers and 23 RBI's and is earning $6.5 million in the final year of his contract.
Kelly Johnson 33 is hitting .275 with 9 homeruns and 34 RBI's. Johnson will come off the bench and will be used in a utility role. The Mets will be sending cash to the Braves also that will offset the $3.15 remaining.
"I feel very good because I got traded to another team that is a contender," Uribe said through an interpreter. "I would have felt bad if I got released or sent home, so I know that I'm going to go to a good team and have the chance to be in the playoffs."
Braves manager Fredi Gonzalez was quick to point out Uribe's professionalism, and how well they have adjusted to the clubhouse.
"You're getting ready to lose two guys that are really pretty good guys on our club," Gonzalez said. "Uribe's only been here about two months, but he fit in right away with these guys, and you're going to miss that and Kelly's professionalism."
Kelly Johnson was actually in a groove as of late and is hoping to build on the momentum. "You find a good routine, and when it's working, it's hard to think about getting out of that," said Johnson, who was surprised to be traded to a division rival. "Now the toughest thing will be finding that routine there."
The players sent to Braves were right hander John Grant and Rob Whalen. Gant is 22 and is a combined 6-5 with a 3.25 ERA in 17 starts for Class A St. Lucie and Double-A Binghamton. Whalen is 4-5 with a 3.36 ERA in 15 appearances for St. Lucie.
The Mets are hoping that this will give some pop to their lineup. They feel that they have the arms to get the job done they just need more offense. These two will be good for the team. They will not disrupt chemistry, they may even enhance it. For now Uribe will start at third, but David Wright's return might limit him to a bench role. Anyway he will provide insurance for the Metropolitans.