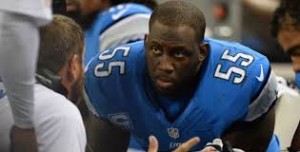 The Lions' Stephen Tulloch will be out for the season after he hurt his ACL while celebrating a sack, and football betting fans cannot believe the player's bad luck.
Tulloch was placed on the IR list by Detroit after the starting middle linebacker hurt his left ACL as he was celebrating a sack of Aaron Rodgers in the Lions' 19-7 win against the Packers on Sunday.
"It's a loss there," said coach Jim Caldwell. "Unfortunately, in our game, it happens all too often."
Caldwell said that the LB will receive surgery to the knee at a date that hasn't yet been confirmed. The player said that he felt his knee give in while he was celebrating, and he went straight to the ground after the injury.
The player got back on his feet, tested his knee and tried to keep on playing. He wasn't able to do much at all and had no choice but to leave the game.
And many football betting fans were upset when they found out that not only was he out of the game, but apparently he's also out of the season.
"It's unfortunate, man," said Tulloch. "You're passionate about the game. You want to get up and celebrate, and it happened. People do it a million times. Unfortunately it happened to me, but I've been healthy for nine years in my career, never missed a game, let alone damn near plays.
"Sitting on the sideline is new to me, man. It's sickening. But I'll be all right. I'll get right and be able to help this team."
The player did not miss a single game since the Titans drafted him out of NC State in the fourth round in 2006. He featured in 131 regular -season games between Detroit – where played for the last four seasons – and Tennessee,
Football betting fans saw that in his career, Tulloch was able to record 13.5 sacks and 806 tackles which include last season, with135 tackles made.
Detroit will most likely move to the middle linebacker position outside linebacker DeAndre Levy to step up for Tulloch. Levy was moved by the Lions from the outside after the injury suffered by Tulloch.