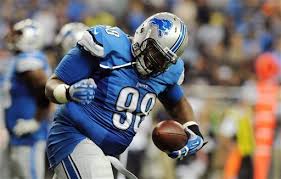 On Monday, coach Jim Caldwell said that the Lions decided to reactivate DT C.J. Mosley after his suspension, and LB Kyle Van Noy will also return to action from the team's short-term IR list. Local bookies believe that the Lions will get a very big boost when they see these players back in action.
Mosley ended up being sent home one day before Detroit took on Atlanta on Week 8 in London, and the Lions said the he would be given a two week suspension. The team then made the decision to recall the player after nine days.
On Monday, the player apologized, but he did not want talk about his suspension. Sources reported that the Lions sent Mosley home after he disconnected a smoke alarm at London's Intercontinental Hotel, and he was caught with marihuana by security.
"I'm not going to go into if it is true, if it's not true, all those things, I'm not going to respond to it," said the coach. "It wasn't released from our organization."
The coach also didn't comment on the matter, said that if Mosley is punished further by the NFL, it would be a "league matter." And this obviously concerns many fans.
Van Noy is again active and expected to return to action after he didn't play in the team's first eight meetings due to core muscle surgery after he suffered a sports hernia during the preseason. In May, the LB was a picked by the Lions in the second round from BYU. The Lions decided to get Van Noy's services, and the team wanted the player to be their starter before he was injured. When he returns, Van Noy will be competing with Ashlee Palmer for the starting SAM LB position.
For the last two weeks, Van Noy was holding practice with the Lions.
"He's been moving around," said Caldwell. "Now we'll immerse him a little bit more in the details of preparation and we'll see where it goes. He looks good. He's performed well so we'll see how that works."
Local bookies learned that Mosley is set to move into the starting DT position across from Ndamukong Suh, so a proper boost should definitely be given to the Lions.
On Saturday, the team made the decision to waive safety Jerome Couplin and TE Jordan Thompson so there could be room for these players.
Detroit also recalled DT Andre Fluellen, and CB Danny Gorrer was cut from the team. The Lions need the services of a DT in depth after Nick Fairley's injury to the knee.
The Lions, who are currently 6-2, are on top of the NFC North over Green Bay by one meeting.