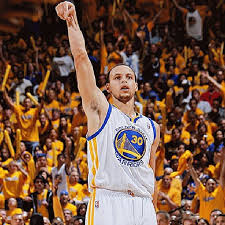 The Golden State Warriors are on another level. I watch them play and it looks like Picasso on the court. Stephen Curry's handle is bonkers and the guy's shooting trey's now and not even looking at them go in before he's back on defense, beast. He has become the face of the NBA with his boyish appeal and yo-yo like dribbling he'll be the face for a long time.
Klay Thompson, he's the other half of the splash brothers. A 6' 7' silky smooth shooting guard out of Washington State. He's not too shabby either. When Curry needs a rest guarding all of the superstar point guards in the league, Klay just slides over and handles his business. What a luxury, the baddest front-court in the game to go with defensive prowess which is key in what can be a magical season.
Draymond Green must be under a spell too, because the guy has become the Swiss army knife of the Warriors, as Steve Kerr likes to put it. He does everything from rebounding hitting three's and is just a downright dog in whatever coach Kerr asks of him. He's definitely in the discussion for Most Improved Player of the Year and next season will become a restricted free agent. Green is going to get paid by either the Warriors or any team with the cash to get him. Most likely it will have to be one of those poison pill contracts to even get the Warriors thinking of letting that man go.
Another important aspect of their game is their bench. These guys have players like, David Lee, Andre Iguodala, and Leandro Barbosa coming off their bench. David Lee in particular has been tested with his patience due to the emergence of Green. He is a player that can probably be starting for every other team except the Warriors.
Steve Kerr was once going to be named the new head coach of the New York Knicks, but after further consideration he bolted the Knicks and his mentor Phil Jackson for the upstart Warriors, he made the right choice. It is very important for a coach to be able to handle different types of characters on a team. It looks like the team believes in him, and hey while they're winning who wants to be the one not happy in group that looks so together. It can be a determent to that player. Maybe that's why David Lee is so mum about his playing time. Winning cures all. At this moment Price per head agents have set the odds to win at 4-1. They are the favorites for the chip.