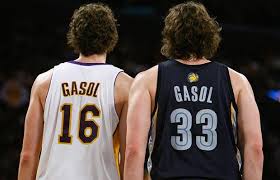 Marc and Pau Gasol made NBA history, as they turned into the first brothers in the league to face each other in an All-Star Game when they squared off on Sunday night in Madison Square Garden. When the game finished, Pau said how much this meant to his family, and pay per head services saw that many fans were also very proud.
"It was a great feeling," said Pau. "Very unique, very special. It's something that has never happened, so I think it's pretty remarkable that we have been the first ones to actually do it. I'm very proud. It was an incredible experience to be able to share this time of moment with your brother."
NBA Fans and pay per head services were focusing to the Gasol brothers during the All-Star weekend, but on Sunday they were paying even more attention, when Pau was the one to win the opening tip at the game in New York City.
"The emotions were overflowing," said Pau. "It was a fun game, it was a special game for us. It was exciting. We were looking forward to it. It's hard to believe that it happened. We just both went out there and competed and played basketball, which we know how to do, so it was fun."
Marc agreed with what his brother said.
"Just seeing so many people happy and so many people supporting us," said Marc. "My daughter came for the first time to a game. To me, that was really special. I know you guys probably don't care, but that made it even more special, if possible."
Pau, who ended the game with 10 points and 12 rebounds – more than the ones made by Marc, with 6 and 10 – doesn't know for sure how the Gasols' achievement on the court will impact the NBA, but the player is happy about the impact left by him and his brother in this competition.
"I don't know what kind of impact we're going to have or [the accomplishment] is going to have," Pau said. "It definitely felt great. It was exceptional, an incredible moment to share. I think this is a great, hopefully inspiring, thing, also for brothers that [think], 'Hey, we can make it, too, or we can have a successful career,' whether it's in the [basketball] profession or other professions. It's exciting. It's exciting to be able to go through this experience at this level."