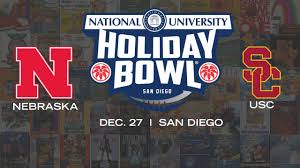 USC and Nebraska had very good chances of making it all the way to the playoff, but bookmaker call centers could see that their play was messy, they suffered ugly losses, and weren't very efficient on the field, something that disappointed many fans, and now they'd really like to see how they'll perform once the Holiday Bowl gets underway in Qualcomm Stadium on December 27th.
The Cornhuskers can't seem to end a year with more than nine victories – or less than that. Due to this, Bo Pelini, who was the team's head coach, ended up being fired after the season's final meeting, as Nebraska has very big expectations. The team had one of the NCAA's top rushing attacks behind RB Ameer Abdullah, who many consider to be one of the most dynamic runners in the game. The player was leading the Cornhuskers with 1,523 yards and 18 TD's, as QB Tommy Armstrong Jr. got second place with 664 yards and 5 TD's. He also made some very nice aerial play, as he passed for 2,314 yards, 19 TD's and 11 picks. His top target was WR Kenny Bell, who caught 40 passes made for 717 yards and 5 TD's.
This season, Cody Kessler, who's a very skilled QB, was the one leading the Trojans. The player was able to arrange the country's 15th top passing offense, recording 3,505 yards, 36 TD's and 4 picks – also finishing 70% of all of his throws. The QB's top target was WR Nelson Agholor, who caught 97 passes made for 1,223 yards, as well as 11 TD's, while WR JuJu Smith caught the ball 51 times for 658 yards and 5 TD's. RB Javorious Allen was very dynamic in the game, as he caught 40 passes made for 442 yards and one TD, besides being the one to lead the Trojans in their rushing game with 1,337 yards and 9 TD's
The Cornhuskers made very good improvements this year in their defensive play, as they're ranked at 49th place in allowed points and 49th place in total yards surrendered in each meeting. Bookmaker call centers could see that USC's scoring defense also performed very well, with a ranking of 38th place in allowed points, but in their total defense they were having problems, and they're ranked at 68th place when it comes to total yards that were given up.