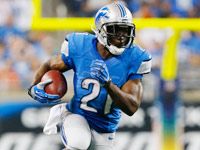 The Lions and Falcons are almost ready to face off on Sunday at Wembley Stadium. Pay per head agents saw that Detroit were able to win their last two meetings, going to 5-2 and tying with the Packers to be at the top of the division in the NFC North, as Atlanta lost four consecutive games both SU and ATS, dropping 1.5 games, and standing right behind the Panthers, who are the NFC South's leaders.
Detroit's betting line opened with the Lions being the favorites by three points. Earlier during the week, the total opened at 47.
In this game, everything seems to indicate that the Lions have a team that is much better off, and definitely doing much better than last season, when Jim Schwartz was in charge. Jim Caldwell, who's the team's new coach, got Detroit to concentrate on the details, and gave WR Calvin Johnson the necessary rest for his ankle injury. With or without Johnson, this season the Lions were a force to reckon with.
A great example of this happened in last week's game at home against the Saints. Matthew Stafford – the Lions' QB – threw to two interceptions, but he could still bounce back, making two passes for TD' as the game was finishing, clinching a win.
Maybe now the Falcons aren't better than the Lions, but pay per head agents can see that the team's roster has the necessary talent to win. This game is not exactly a real road matchup for either the Lions or Falcons, as they're playing in London, so maybe both teams know that they're not facing each other in a hostile environment. The Falcons' problems on the road don't really include opponents from the NFC North, as Atlanta are 5-2 ATS in the last seven games played on the road against teams in the division.
Before their week off, Atlanta are also 4-1 ATS in the last five games that they played on the road, and many fans are very eager to see how they'll perform this time around in London.
NFL fans all over the country can't wait to see the clash between both teams in England, and wonder how they'll perform, as they're pretty far away from home. Many experts believe that even though the Lions seem to have a better team, the ones who will cover and maybe win will be the Falcons, but we can't tell until Sunday.
More from IDSca.com:
NFL Week 8 Odds: Buffalo Bills vs. New York Jets Game
The Redskins must decide what to do at QB
Kansas City Chiefs vs. St Louis Rams Live Betting Odds
Bears vs. Patriots Live Betting Game Analysis